Check out these events going down in Charlotte and the surrounding area this weekend— as selected by the folks at Creative Loafing.
Friday, Dec. 25
click to enlarge
Halo
Tonight Halo will present its "Christmas Champagne Jam," featuring $4 champagne all night long. Folks can bring a can of food and get in free — not to mention this is the perfect getaway for those of you trapped in a house full of relatives
• Music Spend "An Extreme Christmas" with Benji Hughes, who will perform his marvelously moody rock harmonies, at Snug Harbor tonight. more...
• Special Event Stroll through Christmas Town USA: McAdenville for lights and holiday-themed displays galore. In its 54th year, this neighborhood extravaganza is big, and bright too. more...
Saturday, Dec. 26
Booth Playhouse
Defending The Caveman performances at Booth Playhouse take emotions to a whole 'nother level, as it highlights the sometimes complicated interactions between men and women and offers a bedrock of insights into the world of relationships.
• Music The South Carolina-based act Blue Dogs are consistently writing new material and lapping up new fans alike. Check em' out at Neighborhood Theatre tonight when they perform their Americana song crafts. more...
• Comedy Every Saturday, Charlotte Comedy Theater presents a series of improv comedy at Prevue Music Hall. Stop by tonight, if you're in need for a good laugh. more...
Sunday, Dec. 27
click to enlarge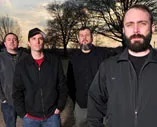 Amos' Southend
An early '90s band that's been rocking to the present day, Clutch, will visit the Q.C. for a performance at Amos' Southend tonight. You can expect to hear unstoppable heavy guitar rhythms and gritty grinding Southern blues undertones, as the band plays songs from its lengthy catalog history. With Doomriders, Lionize, and Never Get Caught.
• Exhibit Discovery Place's newest exhibit, Cool Stuff, explores science and physics through hands-on interaction. Visitors can launch objects into the air, lie on a bed of nails, and more, all while increasing their own brain activity. more...
• Special Event The adventurous, and those who aren't afraid to brace the cold for activity, unite at WBT Holiday on Ice, an outdoor ice skating rink set in Uptown's The Green. more...