click to enlarge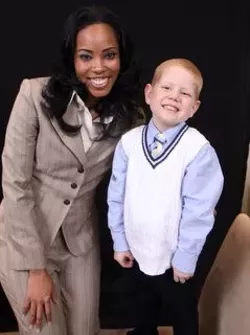 Former Charlotte radio personality/actor (and one-time cover girl for Creative Loafing) Ifé Moore recently joined in an effort to raise funds in the fight against leukemia. Here are more details about the campaign straight from Moore herself:
Dear Friends,

I am honored to say that I am a candidate for The Leukemia & Lymphoma Society's (LLS) Man & Woman of the Year campaign. I am writing today to ask for your support in my efforts to help LLS find a cure for blood cancers and to assist patients and families as they battle this disease.

I was approached about the prospect of becoming a candidate by my friend Sarah Howe. She knows that I am both competitive and compassionate. She also knows of my own Mother's experience with brain cancer and how it changed my life. It is very important to me that I participate in this campaign. It will help me give back to cancer research, in a way I was not and have not been personally able. I just knew this was something I had to do.

Lindsay is 4 and has acute monocytic leukemia (AML). Today she is in remission as AML treatment with a success rate of 50%. But, one of every two children will not make it; thanks to life saving research, leukemia is now a disease that can be cured. Had Lindsay been born 50 years ago, she would not have made it to her 4th birthday.

Landon is 5 and has acute lymphoblastic leukemia. Landon has just begun his three and a half year fight with leukemia. It's hard for child to understand exactly how long that time-frame is. Landon and his mother counted out 1,300 pebbles and put them into a vase. Every night before bed, Landon picks a pebble from the vase and puts it into a box. Once Landon is done with treatment he wants to take his box of pebbles to Fripp Island and throw them in the ocean and celebrate!!!

LLS is funding research for cures and helping patients (and parents). This is an organization that is doing the right thing with the dollars they raise, and I'm proud to be associated with it.

This is where you come in.

My campaign to be the Woman of the Year is all about the contribution I raise. Every dollar I raise is a vote for me and a vote to cure cancer. I am asking you today to join me in this ambitious campaign. I have until May 15th to reach my goal of $50,000 dollars. I've enclosed a donation form and an envelope to make it easy for you to send your tax-deductible contribution (payable to: Leukemia & Lymphoma Society) to me. Or, if you prefer, you can go to the campaign Web site and make your contribution there.

Then, I'd ask you to reach out to others that know and ask them to do the same. I know many of the people I talk to about my campaign have a personal connection to blood cancer and want to support our efforts. Please encourage people to support my campaign to conquer blood cancer.

L will let you know how the campaign goes. I am grateful for your friendship and your support.

Sincerely,

Ifé Moore
For more info, and/or to donate visit http://wnc.mwoy.llsevent.org/Moore.