click to enlarge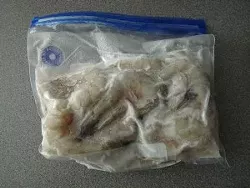 I'm off seafood. I mean it. I don't want any seafood, anymore. (And I love seafood.) But, between us overfishing like the selfish humans we are and the the whole poisoned Gulf of Mexico fiasco, I've lost my interest in all things food-like from the sea.
Though, there is that lone bag of pre-oil spill shrimp in our freezer, brought to us as a gift by a New Orleans native a few months back ...
But, with the realization that it may be our last bag of Gulf shrimp for a very long time, I'm not sure if we should eat it or hold a wake for it. Maybe we'll serve it at it's wake. Maybe we'll preserve it, a la Vladimir Lenin, so future generations can see what Gulf of Mexico shrimp used to look like.
Meanwhile, we're hearing news that oysters at Vinnie's Raw Bar's Lake Norman location may have — or, according to the manager, probably have — oil inside their shells.
We're also hearing about restaurants suffering throughout the nation, with owners and managers swearing they wouldn't serve anything they wouldn't eat. Though, I wonder, how are they supposed to spot oil caked inside of the seafoods' shells?
To those worried restaurateurs I say: File business interruption claims with your insurance carriers, sue BP and change your menu.
It's no surprise oil is being found inside the guts of the Gulf's ecosystem. What did we expect would happen? It's not like we can give sea critters a heads-up on avoiding oil-infused plankton and algae.
Also, did you hear?, professional sniffers have their noses all up on our potential future dinner? I didn't even know such a career path existed, and I'm not all that excited about it.
So, yeah, I'm just not all that into seafood right now. You?
You to watch this video so you can see the sniff tests for oil and gas yourselves: