click to enlarge
Yesterday, I did something I never imagined I would do: I went to our state's capital and pushed representatives to support two pieces of legislation face-to-face.
I don't know about you, but the word "lobbyist" doesn't feel clean when it rings in my head. In the news, it seems like it's usually attached to some giant entity's giant special interest. But, people from all walks of life lobby legislators for all sorts of things: the arts, business interests, health-related legislation, child protection laws — you name it.
I was there to lobby for clean water. I'm sorry to say, however, the coalition of clean water advocates was far outnumbered by a group lobbying for some sort of gambling machine, another group looking to focus legislator's attention on traumatic brain injuries and by the statehouse's regular lobbyists who — I'm told — can be seen there daily.
While I'm not sure my day in Raleigh made much of a difference for our drinking water (one of the bills we lobbied for was altered, literally, as we left the statehouse ... and not for the better), the experience was an eye opener.
The statehouse reminded me of a bee hive, with legislators and their usually one-member support staff tucked in tiny offices all over the legislative complex. Some representatives were in their offices, some were not. Some were busy preparing for meetings. Some were discussing issues around tables in the lobby. Everyone was aflutter with activity. Frankly, I thought, with all the interruptions and side conversation, it's amazing anything gets accomplished.
To my surprise, the very legislators I thought wouldn't find time to talk to us (like the representative from Appalachia with only two books on his shelf, both written by Sean Hannity) were the ones who made the most time to speak to us.
click to enlarge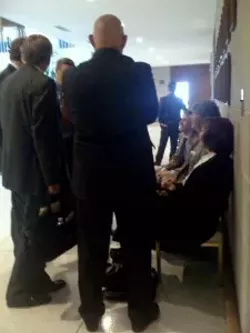 I wasn't surprised, however, to see an occasional group of two or more huddled together in the hallway, hammering out compromises on bills that would soon be up for a vote. Like I said, it's a busy place. You've got to catch people when, and where, you can.
There were no angry town hall-esqe moments. People on differing sides of issues listened to each other and tried to find common ground. Instead of speculating, they looked to source documents or people in-the-know. They shook hands when they parted company, whether they agreed to agree or disagree. Relationships matter.
And that's how one of the bills I was there to lobby for — a bill that calls for a re-mapping the river basins so legislators would have updated and correct information when making basin-related decisions — was changed.
But, that's how it goes. That's how laws are made. I doubt anyone ever gets everything they want in a bill. Progress is made baby step by baby step. And, yes, the people with the best relationships in the statehouse sometimes, OK maybe often, win.
Though it wasn't a victorious day for clean water, it was a great learning experience. I walked away from it thinking every citizen should spend a day or two in the statehouse, learning how Democracy really works. I thought, on the way home, that I'd love to spend more time in Raleigh looking for regulars, listening to the whispering and watching laws being crafted by people who truly believe they're doing what's right for their constituents. Hopefully they believe that, anyway.