Check out these events going down in Charlotte and the surrounding area this weekend— as selected by the folks at
Creative Loafing.
Friday, July 8
click to enlarge
The Comedy Zone at N.C. Music Factory
Just how old is Grandma Lee? Old enough. The 76-year-old lady — should we call her a lady or is her mouth too foul for the title? — made her claim to fame after appearing on NBC's America's Got Talent and Last Comic Standing. In her stand-up act, she really doesn't hold back, and folks can expect to hear the usage of four-letter words consistently as she rattles on about whatever the hell she wants.
• Music Desert Noises is an intriguing trio out of Utah. Their country-tinged, spiritually-inclined, pop channels acoustic Neil Young on some tracks and cranks up the sing-along rock on others. Their original compositions are noteworthy while covers like "Go Tell It On the Mountain" are emotive and passionately executed. With Sunshone Still at The Evening Muse. more...
• Art Hidell Brooks Gallery is welcoming seven artists to display works of varying mediums in its latest exhibit, aptly titled Introductions 5. The artists, who are referred to as being "rarely exhibited in the South," consist of David Febland, Ron Porter, Johan Hagaman, John Sayers, Joan Holleb, Don Quade and Lynn Whipple. Opening reception tonight from 6 p.m.-8 p.m. more...
Saturday, July 9
click to enlarge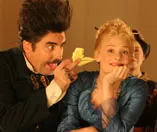 ImaginOn's Wachovia Playhouse
It just wouldn't be summertime in Charlotte if the Main Library wasn't once again presenting its Summer Film Series, a popular Queen City mainstay since 1975. This year's theme is Shakespeare at the Movies, and the lineup begins at ImaginOn with Kenneth Branagh's 2006 adaptation of As You Like It, starring Bryce Dallas Howard, Kevin Kline and Alfred Molina. Although this was produced as a theatrical feature (which is how it played internationally), it was only shown stateside on HBO, meaning that local audiences can catch this romantic comedy in its big-screen splendor.
• Music It's Free Music Night at Neighborhood Theatre, and Josh Phillips Folk Festival is preparing to rock the house. The Asheville group makes frequent stops to Charlotte and is known for blending the genres of roots, folk, soul, rock and reggae into their act. Vertigo Jazz Project & Common Foundation to open. more...
• Nightlife Dance the night away at this weekend's Brazilian Parade Party Volume II at On the Roxx. Following last month's hit Brazilian Parade event, the party promises to feature Brazilian DJs, samba dancers and more. more...
Sunday, July 10
click to enlarge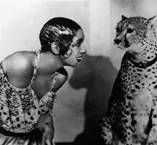 Siren of the Tropics
Harvey B. Gantt Center for African-American Arts + Culture
The Classic International Black Cinema Series continues this afternoon with a screening of Siren of the Tropics. The 1927 film stars the lovely Josephine Baker (see her pictured with a feline friend). Baker — the first African-American woman to star in a major motion picture — plays Papitou, a Caribbean native who falls for Andre, a visiting French engineer. Upon his departure, Papitou heads to Paris, where she claims a new career path in the entertainment biz and strives to capture Andre's heart.
• Special Event Soak Sundays on the Rooftop Pavilion at EpiCentre offers games galore. Bocce ball, ping pong, twister, corn hole, limbo, super soakers, a bikini fashion show and more. Also featuring music by DJ Dirty. more...• Art Whoever said bigger is better? In its fourth year, Gallery Up's 30 Small Works exhibit honors artistic creations that don't take up too much space. The annual art competition — juried by talented artist, art critic and CL contributor Barbara Schreiber — features works from artists across the country. more...