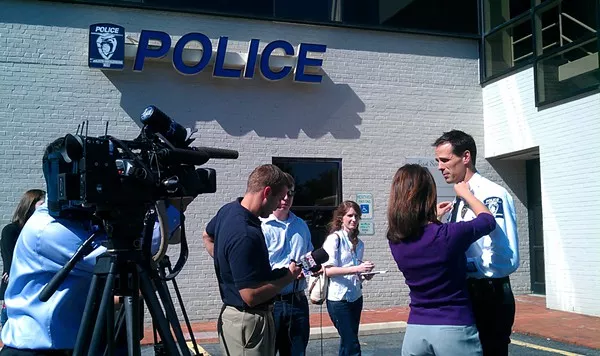 CMPD Capt. Jeff Estes getting prepared for today's presser.
At a press conference Friday, the Charlotte Mecklenburg Police Department laid out its plans for the Occupy Charlotte demonstrations, which will begin at 3 p.m. Sat., Oct. 8, when occupiers gather at 600 E. Trade Street downtown.
Neither the police nor the occupiers know how many people will show up, and Capt. Jeff Estes, commander of the CMPD's Central Division, wouldn't go into specifics on the number of police to be deployed. He did say the department could quickly add officers, if necessary. CMPD has been working with the occupiers to ensure that no one is surprised by ordinances, laws, rules or expectations.
One of the most uncomfortable moments during the press conference came when a television reporter used the word "violence" in his first question. (Seriously. We'll just tag that one #OutOfTouch.) Regardless of how the TV folks chop the CMPD's words into soundbites, this was Estes' calm reply: "Every indication is this is a non-violent protest. Our goal is neutrality." The occupiers, he added, have "done everything above board," including obtaining proper permits. (We called CMPD to verify that the group has a permit for Saturday's event and did not receive a return call.)
Tom Shope, a spokesperson for Occupy Charlotte, wrote in an e-mail, "I was told we were fine on the permit (and that it) was a formality basically just to put the police on notice they will need additional personnel. You don't really need a permit to protest. We did ask for one before the timeline back on Thursday; I have a copy of the email."
As far as how police are allowed to react to protestors (in case you, too, are thinking "violence"), here's the deal: The rules change when people break laws, so don't. The police have more leeway to subdue law breakers, according to their 'Use of Force Policy.' Said Estes, "The least amount of force necessary to affect an arrest, that's the standard."
He said protesters should stay on the sidewalks unless they've received permission to be on private property. He also said weapons are not allowed and that protestors will not be allowed to block traffic or amplify music (a separate permit is required for that); even then, protesters will be required to adhere to noise ordinances. Estes said he and the CMPD have worked with Occupy Charlotte organizers to ensure that all of these regulations are clear. "The group seems to be well organized, and well on their way to getting their point across," Estes said.
After the cameras packed up and left, Estes discussed how the CMPD sees its role in the protest, and explained that it is the department's job to protect protestors and property alike, and that local police take seriously their charge to honor First Amendment rights. "A person has a right to protest — we protect that, too," he said. He also said CMPD will protect the protestors in the event of a counter-protest, and to mediate between the groups.
As far as whether or not protesters will camp out in the area remains to be seen. "The possibilities are unlimited," Estes said.
In my discussions with organizers this week, they have indicated that participants will do whatever the larger group wants to do, which has been the Occupy M.O. all along. Checking the various social media accounts for Occupy Charlotte, it appears that many are prepared to begin camping out on Saturday. Regarding the use of tents, the message has been mixed: a Facebook event page reads, "NO TENTS!" while a document linked to that page says to bring tents.
Updated info: Shope responded late Friday night with clarification: "I was told tents would be fine but they couldn't be beach or yard tents but small two or four man tents." In response to a rumor circulating about police searches of tents, he wrote, "I had not heard anything about searching tents; I guess anything is possible, but I don't anticipate any trouble with the police."
Occupy Charlotte's planned schedule of events for Saturday:

3pm - "General Assembly" and Announcements
3:30pm - Volunteer Working Groups
4pm - March to Bank of America
5pm - Open forum
Regarding that march to Bank of America, Nicole Nastacie, a public relations representative for the company, said "We do not discuss details of our security. That being said, we don't anticipate any significant disruptions to our business."
Two other things I was curious about while speaking with Capt. Estes:
1) Someone from a division called the "DNC Intelligence Unit" within the CMPD has been interacting with occupiers. (We have contacted this person twice and asked for comment, but haven't yet heard back from him.) Estes said "intelligence unit" simply refers to CMPD officers whose job it is to scan the Interwebs for, uh ... well, that's a little unclear. Just know that Charlotte has a "DNC Intelligence Unit."
2) Police taking photos of occupiers. I noticed officers taking video last Saturday when Occupy Charlotte took its position in front of Bank of America's headquarters. And I've heard the conspiracy theories about catalogs of protestors' faces being collected for some nefarious reason. I asked Estes about the photo-taking and he said police "always" take video and photos of protests. It's for legal reasons, he said. For example, if police get into a tiff with someone and get sued, they can share the video in court. When asked about the conspiracy theories, Estes said, "Trust me. We don't have the time for that."