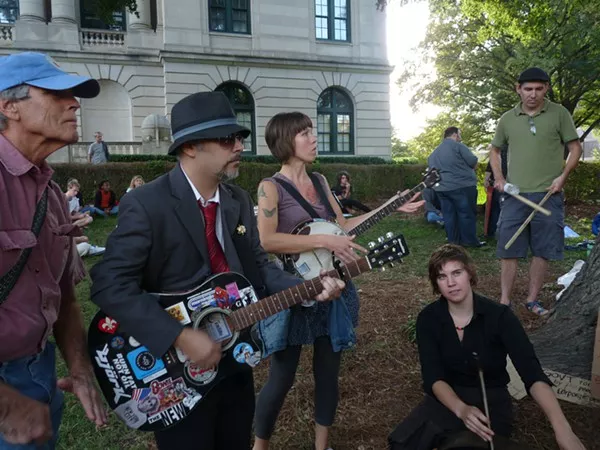 (L-R) Harry Taylor on spoons, Grey Revell on guitar, Erin Kottyan on Banjo and Alea Tuttle on saw ... and some dude with sticks who walked up mid-song
As promised in an earlier post, CL continues to bring you voices from the occupation of Charlotte — individual participants, in their own words, talking about why they joined the local Occupy movement.
Grey Revell, singer and guitarist, said, "The song is called 'Dick' and is named for Lehman Brothers CEO Dick Fuld. The song was written by my friend John Brennan. Together we are members of Zoe Vette and the Revolvers."
Listen to the song, played immediately following the Oct. 8 march on Bank of American with the help of some other local musicians who just happened to be there, too:
Then listen to the original, amped version of the song 'here'.
Lyrics:

Beating down the line
ain't gonna say how much I owe
Beating down the line
gotta beg and borrow
I stole it all away
all you saved for your rainy days
Beating down the line
now your mama's a widow

I stole it away
all you saved for your rainy days
Like a ghost in the machine
breaking down your cruising speed
Beating down the line
gotta beg and borrow
Beating down the line
now your mama's a widow

Beating down the line
ain't gonna say how much I owe
Beating down the line
gotta beg and borrow
Beating down the line
it's like feeding a monster
Beating down the line
now your mama's a widow
Further reading:
24 Hours with Occupy Charlotte
Occupy Charlotte: Working Out the Glitches
CMPD holds Occupy Charlotte press conference
Listen to voices from Wednesday's #OccupyUNCC
Who are the 99 percent?
Oct. 1: The birth of Occupy Charlotte