A viewing of Hagit Barkai's It Looks Something Like This exhibit at Davidson College's Van Every Gallery conjures a sense of uneasiness. The mostly nude figures — with faces somewhat blurred — convey feelings of vulnerability, apprehensiveness and disarray through the canvasses they embody.
Barkai - born and raised in Israel — currently works as an assistant professor of art at Davidson College. She draws influence for her figurative art forms from her upbringing in Israel, as well as aspects related to body image.
"I grew up in an environment with strict restrictions on the body, its expressions and its movements. This has always been underlying themes in my paintings," Barkai says. "There is also the Israeli ethos of victimhood and growing up to learn about realities of victimizing, which have been a tone in my paintings since I came to the US. I find that I see the people in my painting and sometimes the paintings themselves as victims, but free at the same time to leave or choose how to be in their space."
A haunting sentiment of disruption and entrapment (within ones own body, more so than an invisible captor) is evident in these works. In "Blindfold," a woman blindfolded and unclothed kneels on the floor with her hands tucked away behind her back, while in "Beside: Touched," a naked man (his face - mostly blurred with brush strokes of rusty orange - appears frightened) awkwardly places his hands to cover his exposed genitals. Another work, "Beside: Day Of," captures a young woman kneeling with her body bent forward, placing her sullen face to nearly touch the floor.
An assortment of ideas related to the body have influenced Barkai. "The idea that the body is saturated with interests and self-images that can be traced visually by looking at the way we organize our bodies in public," she says. "The idea that there is a resistance towards these images that comes from the body and has no clear linguistic expression. It comes in the form of awkwardness and failure to assume these images."
Though most of the works in the exhibit are displayed in the open gallery space, others can be found in two smaller connecting rooms. Barkai requested these be built and created specific pieces (like the one pictured below) to occupy the space.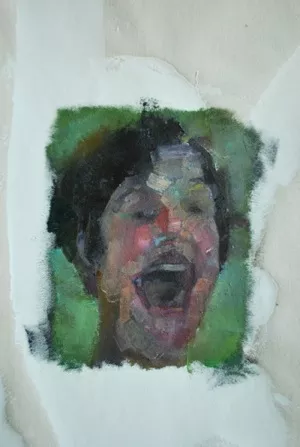 The title of the exhibit stems from a recent trip Barkai took to Israel. Upon finding her old diaries, she discovered old drawings with the caption "It looks something like this." "The word "something" was thickly underlined to stress that it is not really "like this," as if to say, don't think for a minute that you know what it's really like, just from seeing the image," Barkai says. "I thought this line was perfect."
To view past collections by Barkai, visit www.hagitbarkai.com. Exhibit continues through Dec. 7. Davidson College (held in Van Every Gallery), 315 N. Main St., Davidson. 704-894-2519. www.davidsoncollegeartgalleries.org.