As the headline suggests, here are a few of the best places to find comedy events in Charlotte — from stand-up to improv to sketch comedy and more. For a complete listing of all comedy visit www.CharlotteComedyLIVE.com.
Tuesday, Dec. 27
Taboo Tuesday Open Mic at 9:30 p.m. (comedians sign up at 9 p.m.)
The way open mic was meant to be with no language or content restrictions. Every comedian who signs up goes on for five minutes. Special guest host this week John Colwell.
Crown Station Pub ~ 1425 Elizabeth St., Charlotte ~ $2
Wednesday, Dec. 28
Wacky Wednesdays at 9:30 p.m. (new start time with sign up at 9:15 p.m.)
Hosted by Kevin Alderman. Free comedy, drink specials and prizes for the audience member who brings the most friends.
Jackalope Jacks ~ 1936 E. 7th St., Charlotte ~ Free
Wednesday, Dec. 28-Saturday, Dec. 31
John Wesley Austin at 8 p.m. & 10:15 p.m. (doors open at 7 p.m.)
His observational humor captivates audiences. Then he picks up the guitar and treats the crowd to parodies of familiar country and songs and some of his originals too.
The Comedy Zone Charlotte ~ 935 N. Graham St., Charlotte ~ $10-$15
Thursday, Dec. 29
Open Mic Night at 9:30 p.m. (comics sign-up at 9:15)
Need to get out of the house after spending all day with family? Come laugh at us or take the stage for five minutes yourself. Ages 18 and up only.
The Comedy Zone Fort Mill ~ 900 Crossroads Plaza, Fort Mill
Friday, Dec. 30
Last Laffs of 2011 at 9 p.m. (doors open at 8 p.m.)
Hosted by Tito. With Kenny Speed. Featuring Queen Aishah as seen on BET's Comicview & HBO's DEF Comedy Jam. Includes after-party.
The Omega Fraternity House ~ 3301 Statesville Ave., Charlotte ~ $15-$20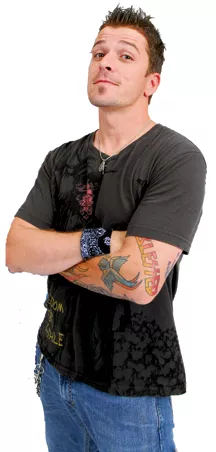 Saturday, Dec. 31
Tim Kidd (pictured above) at 8 p.m. & 10:15 p.m.
Pack up the babies, grab the old ladies, everyone goes to see Kidd. The charming hooligan from Louisville, Kentucky is easily described as a monkey with ADHD.
The Comedy Zone Fort Mill
~ 900 Crossroads Plaza, Fort Mill ~ $10