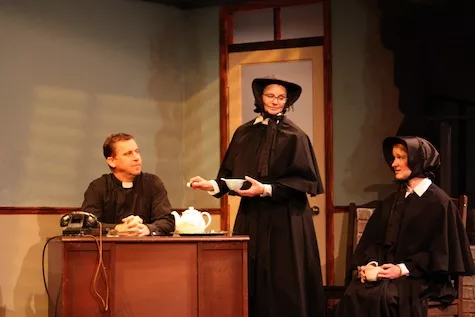 With the possible exception of the place itself, an oasis of rusticated hominess amid our cosmopolitan world-class metropolis, there's nothing about Theatre Charlotte's current production of John Patrick Shanley's
Doubt: A Parable
that isn't purely professional grade. We are blessed to have such fine quality in a community theater production and shamed by our persistent failure to support professional Charlotte theater artists with a fully professional theater company worthy of them.
But a review is properly the place to dwell on the blessings. They begin with David Blamy as Father Brendan Flynn, the idealistic young reformer (or is that the cunning predatory gay priest?) and Katherine Goforth as his implacable adversary, Sister Aloysius Beauvier, the proscriptive reactionary harpy (or is that the valiant defender of innocents?). Both of these seasoned pros beautifully sustain the ambiguities of their characters, tipping the balance, under Gina Stewart's able direction, palpably — but not decisively — toward a benign assessment of the good Father's intentions.
Scenic designer Daniel Fleming's evocation of St. Nicholas, the Catholic church and school where the mighty Father Flynn-Sister Aloysius combat flares up, is actually more substantial than the elegantly simple set that framed Cherry Jones and Brian F. O'Byrne in the original New York production at the Manhattan Theatre Club. Perhaps it needs to be so much further from the Bronx! Goforth brings a steeliness in her crusade against Father Flynn, his ballpoint pen, his long finger nails, and his excessive familiarity with the boys that is appropriate for a battleax school principal who takes pride in being feared by her students and staff. Stewart shapes the Father-Sister confrontations more to the scale of the original MTC production than the grand operatic dimensions Doubt took on when La Cherry & Co. brought the touring version into the vastness of Belk Theater. Yet it's still shocking when Goforth exclaims — involuntarily, it seems — her final confession.
There's no doubt that Blamy is more genial, likable, and charismatic as Father Flynn than his adversary. This is how it should be, for these are all characteristics that Sister Aloysius detests and ferociously discourages in mentors of young children. Blamy struck me as a more youthful, less brooding Father Flynn. His basketball peptalk sounds more athletic and less cerebral than O'Byrne's, and his decision to leave St. Nicholas — with a promotion, no less — seems more like the action of a man who is simply uncomfortable facing persecution, less like a wrenching move made by a pervert forced into a tight corner.