As the headline suggests, here are a few of the best places to find comedy events in Charlotte — from stand-up to improv to sketch comedy and more. For a complete listing of all comedy visit www.CharlotteComedyLIVE.com.
Tuesday, Jan. 3
Taboo Tuesday Open Mic at 9:30 p.m. (comedians sign-up at 9 p.m.)
The way open mic was meant to be with no language or content restrictions. Every comedian who signs up goes on for five minutes.
Crown Station Pub ~ 1425 Elizabeth St., Charlotte ~ $2
Wednesday, Jan. 4
Wacky Wednesdays at 9:30 p.m. (new start time with sign-up at 9:15 p.m.)
Hosted by Kevin Alderman. Free comedy, drink specials and prizes for the audience member who brings the most friends.
Jackalope Jacks ~ 1936 E. 7th St., Charlotte ~ Free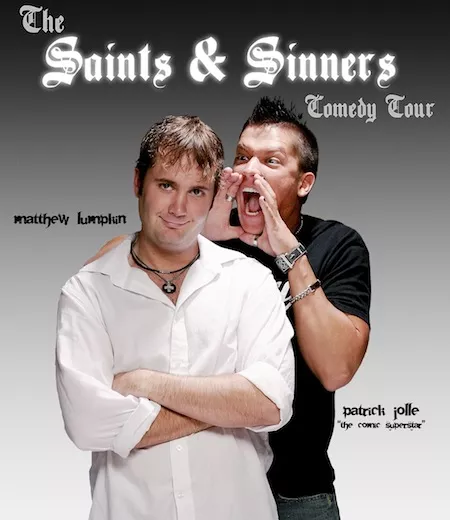 Wednesday, Jan. 4-Saturday, Jan. 7
Saints & Sinners at 8 p.m. & 10:15 p.m. (doors open at 7 p.m.)
"The Saints and Sinners Comedy Tour" mixes the mainstream, working man's material of Matthew Lumpkin with the ego boosted flair of Patrick Jolle into one hilarious and down right entertaining comedy experience.
The Comedy Zone Charlotte
~ 935 N. Graham St., Charlotte ~ $10-$15
Thursday, Jan. 5
Open Mic Night at 9:30 p.m. (comics sign-up at 9:15 p.m.)
Need to get out of the house after spending all day with family? Come laugh at us or take the stage for five minutes yourself. Ages 18 and up only.
The Comedy Zone Fort Mill ~ 900 Crossroads Plaza, Fort Mill
Friday, Jan. 6
Fresh Brewed Comedy Open Mic at 9 p.m. (preshow at 8 p.m.)
Check out the freshest open mic. Try out our stage or come and watch some of the hottest local talent from across the Carolinas. Hosted by Burpie and featuring Ryan Van Genderen.
Dilworth Coffee Concord ~ 350 George W. Liles Parkway NW, Suite 110, Concord ~ $5
Saturday, Jan. 7
Philly Plowden at 8 p.m. & 10:15 p.m.
His observations and revelations about the human condition are mixed with stories from his own hilarious life.
The Comedy Zone Fort Mill ~ 900 Crossroads Plaza, Fort Mill ~ $10
Sunday, Jan. 8
Family Friendly Show: Improv Comedy by Charlotte Comedy Theater at 5 p.m.
The perfect outing for the entire family. Kids love watching their suggestions come to life being performed by our improv actors.
The Comedy Zone Charlotte ~ 900 Seaboard St., Charlotte ~ $5-$10