(To read the Day One Recap, go here.)
Ah, the glorious, tourist-friendly sights of Winston-Salem ...
No, I don't mean the historic Old Salem district, or the Southeastern Center for Contemporary Art (SECCA), or the Reynolda House Museum of American Art. I'm talking about this awesome hood spotted on an automobile parked downtown:
Or this tasty pastry display at Ollie's Bakery, this trip's best find:
Or this way-cool French poster for Woody Allen's Sleeper (or, as our Gallic friends call it, Woody and the Robots):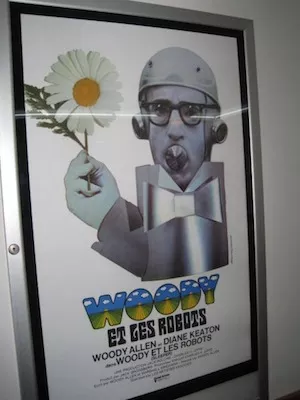 That Sleeper artwork, incidentally, is being used to promote this year's Spotlight series at the 14th Annual RiverRun International Film Festival. Selecting "science fiction favorites from the '60s and '70s" as their theme, the festival organizers booked seven cult items that initially graced screens in the period right before Star Wars radically altered the sci-fi landscape (besides Sleeper, other featured titles include The Man Who Fell to Earth, Logan's Run, Soylent Green and 2001: A Space Odyssey). To continue this motif, the annual RRIFF party, held Saturday night, was billed as an "Intergalatic Space Party." Alas, Man Who Fell to Earth star David Bowie was not in attendance, but anybody needing a sci-fi Bowie fix can simply check out this shot of the singer-actor in the film:
Returning to terra firma, let's now recap some more films I caught during this year's festival.
The Queen of Versailles - Did the entire financial crisis of 2008 occur simply so director Lauren Greenfield could end up with a documentary more fascinating than the one she was originally making? Of course not, although there will be points during this knockout film when viewers might be inclined to think that way. Initially, Greenfield's picture was going to center on the plan by billionaire David Siegel and his wife Jackie to build the largest house in North America - a 90,000-square-foot Florida palace modeled after the actual Palace of Versailles. Obscenely wealthy, the Siegels already live with a large brood of children and an army of nannies in a 26,000-square-foot mansion, but, well, that one doesn't include a bowling alley and baseball field, so it simply won't do. Siegel is almost a caricature of the 1 percent slug: He takes credit for getting Bush elected (although when asked about the re-election, he says he'd rather not comment, since what was done to ensure Bush's victory was "probably illegal"), and sure enough, his walls are lined with photos of him posing with Dubya, Schwarzenegger, Stallone and other heroes of the right-wing. He's made his fortune as a time-share magnate, correctly figuring that if Americans can't be rich, they at least would like the momentary illusion of being rich. His wife Jackie, meanwhile, is a real piece of work. Roughly 30 years younger than her workaholic husband, she rose from a modest background to become the fake-boobed, botox-enhanced monstrosity we see here. The Siegels are enjoying the American Wet Dream when the crisis hits, sending David's business assets spiraling downward. From there, the film shifts from simply being a fly-on-the-wall look at material decadence and moral decay into a study of a family trying to hold itself together during a trying period. David grows more irascible, Jackie can't stop spending money (she buys one of the kids a new bicycle, and we see a nanny place it inside a garage that already houses at least a dozen other shiny bikes), and the bratty children ... well, they remain bratty (household pets have a nasty habit of dying from lack of food and water). Despite flashes of recognizable human behavior - Jackie seems to genuinely care about her struggling childhood friend, and David is nothing if not thrifty during his downfall - viewers won't exactly be leaving The Queen of Versailles feeling enormous sympathy for its subjects. But they will leave feeling they've just seen a powerhouse documentary.
God Bless America - Oliver Stone's 1994 Natural Born Killers was a blistering indictment of how the media turns mass murderers into celebrities. God Bless America, the new film from writer-director Bobcat Goldthwait, somewhat turns that premise on its head: Here, mass murderers go after the media, whose members have in this century become celebrities themselves. Joel Murray stars as Frank, a divorced office grunt who abhors the dumbing down of this nation. While his co-workers gather around the water cooler to excitedly gab about the most recent episode of American Superstarz (a "talent" show hosted by a Brit, a Latina and a black guy), he rails against the idiocy of reality shows, inflammatory TV commentators, and racist, homophobic mobs. Even his own daughter won't have anything to do with him, deeming him boring because his idea of a good time is a trip to the zoo or the park; she only calls him to shriek about hating her mom because she bought her a Blackberry instead of an iPhone. Frank decides to kill himself rather than live in such a world, but he soon changes his mind and instead goes after Chloe (Maddie Hasson), a 16-year-old beauty and the horrific, spoiled star of her own reality show. His actions are noted by teen misfit Roxy (Tara Lynne Barr), who quickly joins him in his murderous acts; soon, the pair are traveling across the country, blowing away Tea Party extremists, right-wing hatemongers (including a Glenn Beck-like host who scoffs at a mom who lost her son in combat), and reality-TV stars. Admittedly, God Bless America is simplistic in its views and goals, and there's something a bit disingenuous about this picture being made by a filmmaker whose claim to fame was appearing in such idiotic works as Police Academy 2: Their First Assignment, the talking-horse romp Hot to Trot and the notorious Shakes the Clown. But I'd be lying if I didn't admit that there's something cathartic about seeing funeral picketers and Rush Limbaugh clones receive their just desserts.
Animated Shorts - Six countries, including Germany, France, Ireland and the U.K., were responsible for the 15 toon tales presented in this colorful collection. Yet at the risk of seeming Europhobic, the films that made my Top Three all hail from the Americas. What's more, two of them are available online in their entirety (go to the end of this article for links), meaning CL readers can also partake in their glories.
Bottle, a student film from Kirsten Lepore of California Institute of the Arts, emerged as my favorite of the 15. Employing stop-motion animation, Lepore spins a lovely tale about a sand being and a snow being separated by a vast ocean, employing the wave-traveling title object as their means of communication. Lepore's film is both emotional and innovative; Pixar should snap her up before it's too late.
Something Left, Something Taken is another stateside entry, this one by filmmakers Ru Kuwahata and Max Porter. A young couple arrive in San Francisco and accept a ride from a "friend of a friend." The guy, fascinated by true-crime tales, soon starts to believe that their driver is the Bay Area's notorious Zodiac Killer, a psychopath who was never captured. This one's powered by several hearty laughs, a unique animation style, and some startling, out-of-left-field flights of fancy (wait, did this thing just turn into a musical?).
Luminaris, an Argentinian effort from director Juan Pablo Zaramella, rounds out my list of faves. Real actors are integrated into some trippy toon techniques to tell the story of a man whose menial job at a light bulb factory provides him with a bright idea.
Bottle in its entirety:
Something Left, Something Taken in its entirety:
The trailer for Luminaris:
Coming up: Wuthering Heights, The Eye of the Storm and a list of the festival winners.