The Joy Formidable, IO Echo, Fort Lean
Visulite Theatre
May 9, 2013
Rock isn't dead. Even if it was, The Joy Formidable provided a healthy alt-rock shock to the heart last night at the Visulite Theatre which would have been enough to revive it. The Welsh trio, on tour in support of their latest release,
Wolf's Law
, blasted forth with blistering rock worthy of rattling the walls on a much bigger venue.
The last time they were in town, Ritzy Bryan and company opened for the Foo Fighters at Time Warner Cable Arena. Taking what they learned from the big stage, The Joy Formidable has harnessed that energy into a loud, powerful, awe-inspiring set which leaned heavily on the new album.
The band quickly launched into "Cholla" as Bryan made full use of the stage, bouncing between drummer Matthew James Thomas and bassist Rhydian Dafydd. Bryan's bubbly personality and energetic stage presence was infectious as the crowd absorbed every note the band threw out, from the driving bass line of "Little Blimp" to the gong crashing of "Whirring."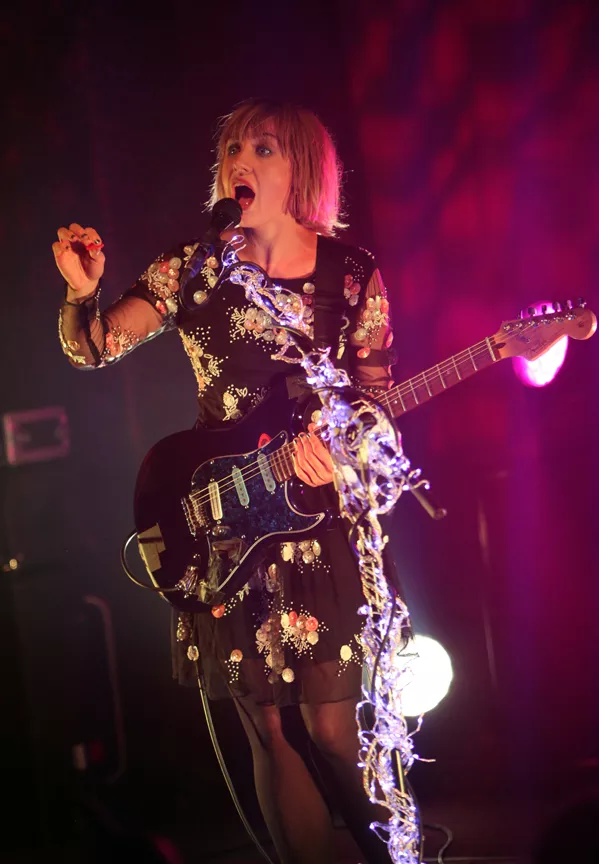 The Joy Formidable creates a larger-than-a-trio soundscape, building up surprising depth and volume when compared to the band's studio versions. Bryan and company found a moment of sensitivity during the acoustic "Silent Treatment" before crushing through "Maw Maw Song" - a strong one-two punch which provided a sonic climax to the set, not that there was ever a lull.
The night started with solid performances by Brooklyn, N.Y, indie rock quintet Fort Lean and L.A. indie-rock trio IO Echo. IO Echo, who had recently opened for Bloc Party at the Fillmore, comes across as a heavier-edged Yeah Yeah Yeahs.
Setlist
Cholla
Austere
This Ladder Is Ours
The Greatest Light Is the Greatest Shade
Little Blimp
Cradle
Tendons
Silent Treatment
Maw Maw Song
I Don't Want to See You Like This
The Everchanging Spectrum of a Lie
Encore
Wolf's Law
Whirring