Pearl Jam
Time Warner Cable Arena
Oct. 30, 2013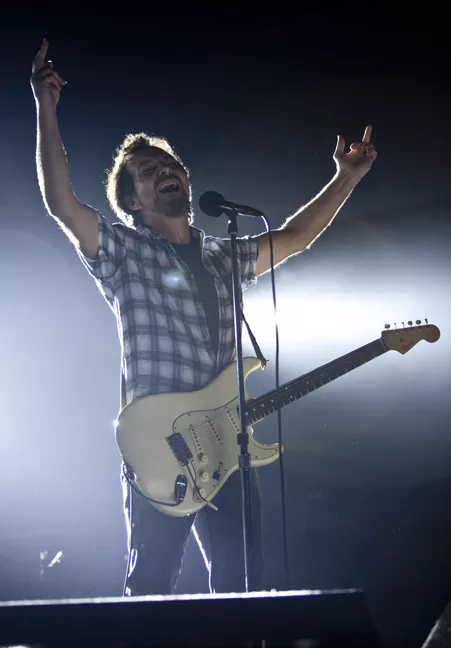 "It's been about 10 years since the last time we were here... did you not call us back?" Pearl Jam frontman Eddie Vedder asked the sold-out Time Warner Cable Arena crowd. "Well, we're gonna make up for all those years."
Dressed in black jeans and a short-sleeved flannel shirt, Vedder and Co. held true to that promise, playing 30 songs over nearly three hours on Oct. 30, 2013, giving everyone in attendance, well, a little bit of everything. While the setlist weighed heavy on the band's current No. 1 album, Lightning Bolt, the band did its best to incorporate something old, something rare, something covered and something bare - guitarist Stone Gossard's chest, to be exact.
"It doesn't really matter, but it's kinda nice... we've had the No. 1 record for two weeks," Vedder, who swigged from a bottle of wine all night, told the crowd. "So, we want to say thanks. It's nice to be No. 1, because sometimes you feel like number two. And we didn't even have to show our tits to do it," he added, as Gossard lifted his shirt.
It was a light-hearted moment that carried throughout the night, as Vedder shared his bottle of wine with the front row, guitarist Mike McCready wandered into the crowd and just about everyone in the packed uptown venue sang, screamed and danced along for the duration of the show.