Over the past three years, Stephen Seay Productions has done a thorough traversal of the Reduced Shakespeare canon, beginning late in 2010 with The Complete Works of William Shakespeare (abridged) and continuing with The Bible: The Complete Word of God (abridged). Leaving behind Petra's Piano Bar, the site of their first reductions, Seay brought his next (abridged) comedy, All the Great Books, to WineUp last March, shortly before the Davidson loft was renamed UpStage.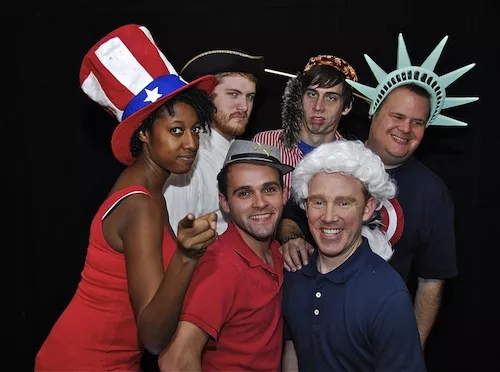 Now the troupe is staging The Complete History of America (abridged) in a time-tested cabaret style, and the results are easily as hilarious as any that have reduced, distorted, and hammed it up before. If you're taking advantage of the dinner theater option, with a full menu courtesy of nearby Boudreaux's, you're likely to find yourself in a splash zone on multiple occasions. Thanks to a fine ensemble and a zany, adventurous script, most of the mirth isn't water-powered.
Or should I be saying scripts? Several times during the 114-minute production, broken into two nearly equal acts, Seay and his comedy guerillas seemed to jump the tracks originally laid down by Adam Long, Reed Martin, and Austin Tichenor - very welcome as Sue and I were sitting down to our third go-round with Reduced Shakespeare's Americana. Certainly, our previous experiences didn't include an appearance by President Barack Obama.
Tania Kelly engineered that visitation after favoring us with a new National Anthem, vying with Chris Herring for top comedy honors - and shiftiness - during the pleasurable evening. Herring distinguished himself most memorably as the shamus protagonist in the extended noire sketch reviewing American history since World War 2. With its references to forced incarcerations of the Japanese, Native American genocide, and healthcare.gov, the evening felt more topical and kickier than other (abridged) efforts I'd seen in the past, without losing any of its essential lightheartedness.
Rob Brafford was the closest in the ensemble to surrendering to normality. Seay and Christopher Jones reminded me most forcefully of the actual Reduced Shakespeare renegades when I've seen them on tour, their glib geniality transparently masking an upcoming prank. As for Jay Russell, I'm not sure how an attempt at normality would work out for him. Needless to say, he doesn't really try, consistently striking me as a gleeful escapee from a mental institution or Victor Frankenstein's lab.
Complete History of America takes us all the way back to ancient days preceding civilization as it embarks on its breathtaking panorama. Along the way, the energetic ensemble proceeds to teach us absolutely nothing about anything. I'm sure they take great pride in that.