RALEIGH - On Wednesday, a coalition of health-care advocates, including Moral Monday organizers and Planned Parenthood representatives, called on state Republicans to accept federal funding for Medicaid.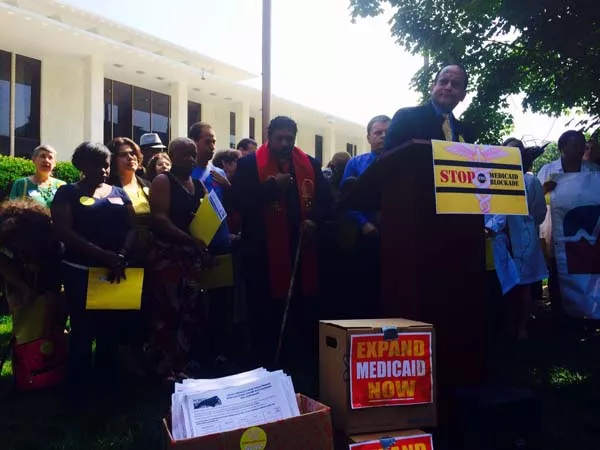 House Democratic leader Larry Hall addresses the crowd
Legislators rejected the money last year, arguing the federal government would inevitably break its promise to continue supporting the program - a tenet of the Affordable Care Act. In doing so, they left about 500,000 North Carolinians who wouldn't qualify for insurance under Obamacare in the lurch.
Both sides agree the costly program has problems, but the coalition asked lawmakers to hash out a reform plan while they accept expansion funds so people aren't negatively affected. A study released in January estimated that opting out of Medicaid would lead to the deaths of between 455 and 1,145 low-income North Carolinians every year.
On the same day the coalition met in front of the state legislative building, Gov. McCrory called on lawmakers to reconsider his reform plan, which would put Medicaid cost overruns and savings on hospitals and doctor networks. Senate Republicans scrapped his idea in their version of the budget.
"[McCrory] says he wants to reform the system, and he has some good plans ... but it just won't work unless you expand while you reform," said Adam Searing, a program director for the North Carolina Justice Center, before the coalition's press conference.
Check back tomorrow for more on expanding Medicaid.