Joshua James w/ HoneyHoney
The Evening Muse
Oct. 7, 2011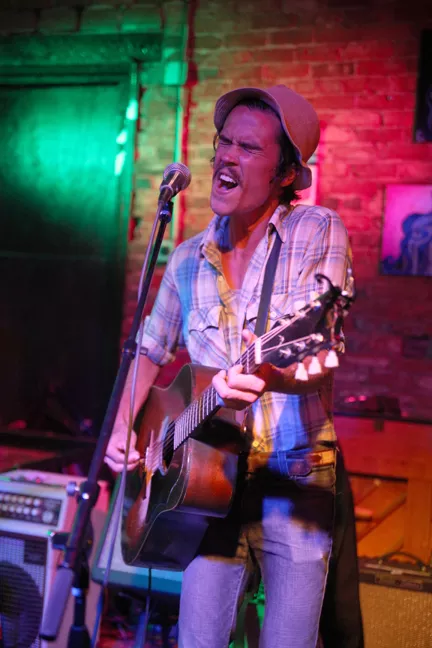 Joshua James steps up to the microphone and a soft, raspy voice starts to sing. As the emotion starts to pour from his lips, veins strain in his neck and his thin frame rocks up to his toes. His eyes close as he sinks further into the poetic music. If you only catch a glimpse of the 25-year-old with an acoustic guitar, you might lump him together with countless other folk artists, though his music and performance clearly transcend the genre.
There's a restrained intensity when James performs while his music is hypnotic enough to draw the listener in. There wasn't much banter between songs as he was more transfixed on the task at hand — 12 heartfelt songs from his two albums — 2007's The Sun Is Always Brighter and 2009's Build Me This — as well as a couple of new tunes and covers.
James songs deal with tragedy in a bittersweet manner. Even the softest and simplest of lines are conveyed with all of his emotion. He performed two songs on his own — "FM Radio" and "Weeds" — while the rest were done with a guitarist and drums. He was joined by Suzanne Santo of HoneyHoney on "Cheyenne."
"Coal War," which was prominently featured on the season premiere of Sons of Anarchy, may have been the emotional breaking point of the show as James appeared to give it all he had. He wrapped up his set with a cover of Tom Waits' "Green Grass" that included an on-the-floor performance of handbells.
Opening the night was a set by California's HoneyHoney. The quartet played songs from its new album,
Billy Jack
, which is due for release on Oct. 24. The indie-roots duo's music is highlighted by a banjo and strong vocals by Santo and guitarist Ben Jaffe.
Joshua James setlist
Mystic
Daniel
Cheyenne
Magazine
Pitchfork
Ghost in the Town
Lawn Full of Marigolds
FM Radio
Weeds
Paradise (John Prine cover)
Coal War
Green Grass (Tom Waits cover)