Kiss w/ Motley Crue
Verizon Wireless Amphitheatre
July 25, 2012
As I stood watching Kiss perform on Wednesday night at Verizon Wireless Amphitheatre, I thought, "this is the same show I saw at
Voodoo Fest in New Orleans in 2009
." It's also the same show I saw in 2003 at the Greensboro Coliseum.
Then I thought, "this is the same band I remember listening to when I was growing up." I remembered staring at the cartoonish cover of Rock and Roll All Over for hours. I laughed at the thought of my brother and I wearing out our vinyl copy of Alive!, and subsequently losing no less than three cassette versions. I recalled watching the 1987 home video Exposed, shocked at what the members looked like without makeup.
That is why people go to a Kiss concert. People don't go to support a new album, hear new songs or wonder what's changed in the performance. They go to relive the past, and find comfort in the fact it's "just like I remembered."
Let's face it. Not much has changed for Kiss in the last 12 years or, in some ways, the last four decades. Ever since Kiss announced a farewell tour in 2000, the band has been touring pretty regularly and with basically the same setlist. Kiss takes a lot of crap for continuing to tour after the so-called "farewell" run, but as Simmons once told me in an interview — "there's still a demand for it." Judging by the packed performance on July 25 at Charlotte's Verizon Wireless Amphitheatre, that's true.
Motley Crue is the co-headliner on this tour and performed their own hour-and-15-minute set that was similar to last year's tour. While I was a fan of theirs 25 years ago, it was Kiss who offered the biggest nostalgia trip for me.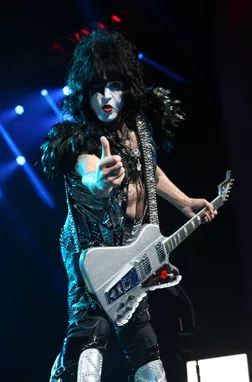 Starchild, The Demon, Spaceman and Catman are still on the stage performing their greatest hits and throwing in a new/old song here and there. It's become a well-oiled machine. Sure, Spaceman is now Tommy Thayer instead of Ace Frehley and Eric Singer dons the cat makeup instead of Peter Criss (two facts that don't sit will with many purists), but other than that, they stick to their schtick.
"Detroit Rock City" to open the show? Check. Gene Simmons spitting fire and drooling blood? Check. "Shout it Out Loud," "Love Gun" and "God of Thunder"? Yep. Fireworks and flames? More than you'd expect. Forgettable new song — "Hell and Hallelujah" — and weak old song — "Shock Me" — that could have been left out? Yes. Encore of "Rock and Roll All Nite"? Of course.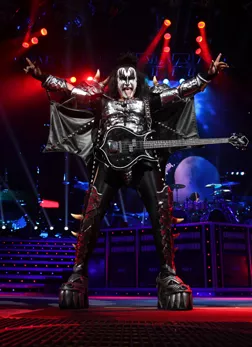 Paul Stanley hams it up, Simmons sticks his tongue out more times than you could possibly count and the fans sing along and soak up every minute of it. Sure, it can get a bit cheesy at times, but that's what you'd expect.
They might not have played "Deuce" or "Strutter" in their hour-and-15-minute-set, but thanks to the rekindling of memories, those have been in my head all morning.
Kiss setlist
Detroit Rock City
Shout It Out Loud
I Love It Loud
Firehouse
Love Gun
War Machine
Shock Me
Hell or Hallelujah
Bass Solo
God of Thunder
Lick It Up
Black Diamond
Encore
Rock and Roll All Nite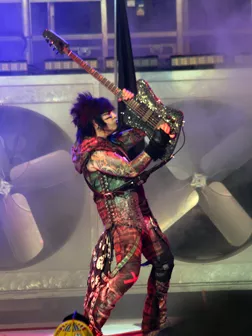 Motley Crue setlist
Saints of Los Angeles
Wild Side
Shout at the Devil
Same Ol' Situation (S.O.S.)
Sex
Don't Go Away Mad (Just Go Away)
Home Sweet Home
Drum Solo
Live Wire
Primal Scream
Dr. Feelgood
Girls, Girls, Girls
Kickstart My Heart