setlist
Wednesday, October 17, 2018
Posted

By

Jeff Hahne on

Wed, Oct 17, 2018

at

10:38 PM

Chvrches, Lo Moon

The Fillmore

Oct. 16, 2018

Good lighting is nice. The sound definitely matters. But the right stage presence and energy can lift any concert up to the rafters. Chvrches hit the stage on Tuesday night at The Fillmore and offered another upbeat and entertaining performance that left the whole crowd swooning. Maybe it's the indie-pop rhythms or perhaps its the sweet vocal tones of singer Lauren Mayberry. Whatever the case, Chvrches is on that list of must-see acts thanks to the quality of their sound and simplistic goodness that shouldn't be missed any time they're in town. You just want to dance, sing along and hope the show never ends. The night started with Lo Moon, who kicked off their brief set with the hit single, "This Is It."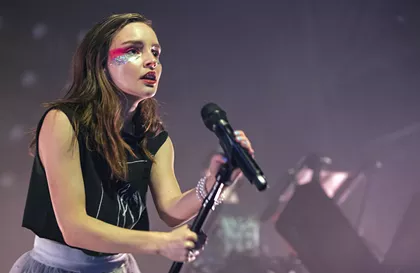 13 slides
Chvrches setlist
Get Out
Bury It
Gun
We Sink
Graffiti
Graves
God's Plan
Under the Tide
Miracle
Science/Visions
Really Gone
Deliverance
Forever
Recover
Leave a Trace
Clearest Blue
Encore
The Mother We Share
Never Say Die
Lo Moon setlist
This Is It
The Right Thing
Thorns
Wonderful Life
Real Love
Loveless
Thursday, October 4, 2018
Posted

By

Jeff Hahne on

Thu, Oct 4, 2018

at

9:46 PM

Florence & The Machine, Billie Eilish
Oct. 3, 2018
Spectrum Center

Add Florence Welch to the short list of people who could sing an encyclopedia and still be entertaining. Performing around an elaborate wooden stage at Charlotte's Spectrum Center on Wednesday night, Welch and the rest Florence and the Machine could do no wrong in the eyes of fans packing the uptown venue. From her sing-along hits to rarer tunes, fans soaked up every note. Welch's effortless singing and barefoot dancing struck the right chords. 16-year-old Billie Eilish opened the night with an energetic set that showed she has talent beyond her years. It won't be long before Eilish is headlining arenas on her own.




Florence and the Machine setlist
June
Hunger
Between Two Lungs
Only If for a Night
Queen of Peace
South London Forever
Patricia
Dog Days Are Over
100 Years
Ship to Wreck
The End of Love
Cosmic Love
Delilah
What Kind of Man

Encore
Big God
Shake It Out

Billie Eilish setlist
Bellyache
Idontwannabeyouanymore
&burn
Bored
Bitches Broken Hearts"
Hotline Bling
Party Favor
you should see me in a crown
Ocean Eyes
Lovely
My Boy
Copycat
Wednesday, September 12, 2018
Posted

By

Jeff Hahne on

Wed, Sep 12, 2018

at

9:42 PM

Deep Purple, Judas Priest, The Temperance Movement

PNC Music Pavilion

Sept. 11, 2018

Less than a month ago,

a trio of rock legends

hit PNC Music Pavilion to prove they're not too old to rock. On Tuesday night, a duo proved the same thing. Deep Purple and Judas Priest may have had a smaller crowd than that concert with Paul Rodgers, Beck and Ann Wilson, but they did their best to tear the roof off the Charlotte amphitheatre. Don't ever second guess that Priest's Rob Halford can't hit all the high notes. While it took Deep Purple's Ian Gillian a few songs to warm up, he held his own through all the hits, as well. Both singers are mixed by a group of long-time players and hired guns that fill the shoes well during hour-plus sets. While The Temperance Movement may have been the younger band on the bill, they held their own and warmed up the crowd nicely.

Deep Purple setlist

Highway Star

Pictures of Home

Bloodsucker

Strange Kind of Woman

Sometimes I Feel Like Screaming

The Star-Spangled Banner

Uncommon Man

Lazy

Knocking at Your Back Door

Keyboard Solo

Perfect Strangers

Space Truckin'

Smoke on the Water

Encore

Hush

Judas Priest setlist

Firepower

Delivering the Goods

Sinner

Lightning Strike

Desert Plains

Turbo Lover

Tyrant

Guardians

Rising From Ruins

Freewheel Burning

You've Got Another Thing Comin'

Hell Bent for Leather

Painkiller

Encore

No Surrender

Breaking the Law

Living After Midnight

The Temperance Movement setlist


Caught in the Middle

Only Friend

Three Bulleits

Battle Lines

Take It Back

Ain't No Telling

Built-In Forgetter
Monday, August 20, 2018
Posted

By

Jeff Hahne on

Mon, Aug 20, 2018

at

10:16 PM

Stars Align Tour f. Paul Rodgers, Jeff Beck, Ann Wilson, Deborah Bonham
PNC Music Pavilion
Aug. 19, 2018

Paul Rodgers is 68 years old. Jeff Beck is 74. Ann Wilson is 68. Who says you can't get better with age? The trio of rock icons hit Charlotte's PNC Music Pavilion on Sunday night and proved they've still got what it takes to hit all the right notes. While Rodgers filled his performance with songs from Bad Company and Free, Ann Wilson of Heart focused more on covers of music that influenced her and meant something to her. Meanwhile, it was Beck who lit up the night from start to finish. The legendary guitarist simply shredded every note and showed why he's at or near the top of so many best guitarist lists. (Widespread Panic guitarist Jimmy Herring even made the drive up from Atlanta just to see him.) The night was opened by John Bonham's sister, Deborah. There might not have been many people in attendance but those who were soaked in every minute of classic rock. As Ann Wilson said, "It's a night full of music performed by people with real voices and instruments." Plenty of modern musicians should take notes.



Paul Rodgers setlist
Little Bit of Love
Can't Get Enough
Wishing Well
Feel Like Makin' Love
The Stealer
Ready for Love
Movin' On
Mr. Big
Woman
Fire and Water
Shooting Star
Rock 'n' Roll Fantasy

Encore
Walk in My Shadow
All Right Now

Jeff Beck setlist
Pull It
Stratus
Nadia
You Know You Know
Morning Dew
I Have to Laugh
Lonnie on the Move
Mná na h-Éireann
Just for Fun
Little Wing
Big Block
Cause We've Ended as Lovers
Brush With the Blues
Superstition
A Day in the Life

Encore
Corpus Christi Carol
Going Down

Ann Wilson setlist
The Real Me
Barracuda
Ain't No Way
I Am the Highway
Back to Black
You Don't Own Me
Life in the Fast Lane
Won't Get Fooled Again
Thursday, August 2, 2018
Posted

By

Jeff Hahne on

Thu, Aug 2, 2018

at

9:51 PM

Kesha, Macklemore
PNC Music Pavilion
Aug. 1, 2018

Someone said there were massive downpours at PNC Music Pavilion last night. I also heard that the sets by Kesha and Macklemore were cut short by two songs each. Those in attendance didn't care because they were too busy having a great time. The pop stars brought a party to Charlotte last night and rain didn't hold anyone back. Usually when it rains, concert-goers run for cover. In Charlotte, they acted like it was an extension of Macklemore spraying water on the crowd or Kesha's confetti bombs.

Macklemore opened up the night with an eight-song run through his biggest hits. He brought crowd members on stage, threw things into the crowd and never stopped dancing from one side of the stage to the other. Kesha's anthem "Praying" brought many to tears, but her entire set showed she's a pop start without the "diva" label. Her set started off with plenty of f-bombs and middle fingers in the air, but she clearly had a blast from the first notes of "Woman." She even joked that her ass wasn't hanging out of her leotard enough. Sure, those in attendance would have preferred less rain and more music, but they loved every minute of the party that rolled through town.



Kesha setlist
Woman
Blah Blah Blah
We R Who We R
Good Old Days
TimberDie
Young
Your Love Is My Drug
Take It Off
Blow
Praying
Tik Tok

Macklemore setlist
Ain't Gonna Die Tonight
Thrift Shop
White Walls
Same Love
Otherside
Willy Wonka
Dance Off
Can't Hold Us
Thursday, July 26, 2018
Posted

By

Jeff Hahne on

Thu, Jul 26, 2018

at

10:46 PM

Weezer, Pixies, Sleigh Bells
July 25, 2018
PNC Music Pavilion

If Weezer represented upbeat pop-rock and Sleigh Bells provided the punch of heavy, modern rock, the Pixies were the glue holding it all together on a night that featured all three bands. Wednesday night's co-headliner event showcased the high energy of Sleigh Bells kicking things off. Pixies spent more than an hour proving why they've had staying power - except for a decade-long hiatus in the mid-90s to mid-00s. Frontman Black Francis sounded better than ever, merging spoken word with on-point screams and everything between. Weezer hit the stage with "Buddy Holly" and never let up with hit after hit to keep the entire crowd singing along. Both headliners played setlists of more than 20 songs each. Overall, it's one of the best rock shows Charlotte's seen this summer.



Weezer setlist
Buddy Holly
Beverly Hills
Pork and Beans
Undone - The Sweater Song
Hash Pipe
Perfect Situation
My Name Is Jonas
El Scorcho
In the Garage
Surf Wax America
Happy Together
Keep Fishin'
B-Stage
Island in the Sun
Take On Me
Burndt Jamb
(If You're Wondering If I Want You To) I Want You To
Feels Like Summer
Africa

Encore
Pink Triangle
Say It Ain't So

Pixies setlist
Ed Is Dead
Nimrod's Son
Mr. Grieves
Vamos
Caribou
U-Mass
River Euphrates
Cactus
Planet of Sound
Where Is My Mind?
All the Saints
Here Comes Your Man
Gouge Away
I've Been Tired
Head On
Debaser
Hey
All I Think About Now
Gigantic
Wave of Mutilation
Crackity Jones
Isla de Encanta
Monkey Gon
Sunday, July 22, 2018
Posted

By

Jeff Hahne on

Sun, Jul 22, 2018

at

10:49 PM

Lindsey Stirling, Evanescence, Cellogram
July 20, 2018
PNC Music Pavilion

If you went to PNC Music Pavilion on Friday night expecting to see a blistering rock show, you left either completely disappointed or pleasantly surprised. While Evanescence was on the bill with co-headliner Lindsey Stirling, the band left the heavy rock behind. Singer Amy Lee took center stage to showcase her vocals through rearranged, more mellow versions of the band's songs accompanied by more than two dozen orchestra members. She showed depth and range for more than an hour and brought numerous fans to tears with the emotion and power in her vocals. Stirling capped off the night with an energetic performance filled with non-stop dancing. It wasn't the typical show for PNC Music Pavilion as both artists performed their music with renewed style and grace. If only more artists brought something completely new to the table on their own tours.



Evanescence setlist
Overture
Never Go Back
Lacrymosa
End of the Dream
My Heart Is Broken
Lithium
Bring Me to Life
Unraveling
Imaginary
Secret Door
Across the Universe
Hi-Lo
Lost in Paradise
Your Star
My Immortal
The In-Between
Imperfection
Thursday, June 21, 2018
Posted

By

Jeff Hahne on

Thu, Jun 21, 2018

at

10:53 PM

Outlaw Music Festival f. Willie Nelson, The Avett Brothers, Jamey Johnson and Sarah Shook and the Disarmers

PNC Music Pavilion

June 20, 2018

When Willie Nelson abruptly

canceled his performance nearly a month ago

, fans left Charlotte's PNC Music Pavilion filled with disappointment. Sure, they said they'd make up the show, but would it really happen? When a June 20 makeup date was announced, fans remained optimistic. On Wednesday night, Nelson held up his end of the bargain in fine fashion. Though the night started a bit slow for the 85-year-old legendary singer/guitarist, he quickly warmed up his vocals and fretwork. He rolled through hit after hit and cover after cover. At this point, Nelson doesn't owe anyone an explanation or a makeup date, but he showed his love of performing for more than an hour. His only acknowledgement of last month's debacle was a simple, "I feel like I've been here before."

Before Nelson, Concord's own Avett Brothers performed a stripped-down set a la 2008. With only Seth and Scott Avett flanked by bassist Bob Crawford and cellist Joe Kwon, the quartet rifled through songs like they used to when they were performing in Charlotte on a regular basis. Family harmonies, energetic foot stomping and spot-on instrumentation highlighted the set. It might have stole the show if they were opening for anyone other than Willie Nelson.

Willie Nelson setlist

Whiskey River

Still Is Still Moving to Me

Mamas Don't Let Your Babies Grow Up to Be Cowboys

Good Hearted Woman

Down Yonder

If You Got the Money

Angel Flying Too Close to the Ground

On the Road Again

Always on My Mind

It's All Going to Pot

Jam

Jambalaya (On the Bayou)

Hey Good Lookin'

Move It On Over

Shoeshine Man

Georgia on My Mind

I Been to Georgia on a Fast Train

Funny How Time Slips Away

Crazy

Night Life

Still Not Dead

Something You Get Through

Roll Me Up and Smoke Me When I Die

Will the Circle Be Unbroken / I'll Fly Away

The Avett Brothers setlist


Laundry Room

Distraction #74

Down With the Shine

Talk on Indolence

Murder in the City

I Wish I Was

Shame

Satan Pulls the Strings

At the Beach

Standing With You

Mama Tried

Through My Prayers
Tuesday, June 12, 2018
Posted

By

Jeff Hahne on

Tue, Jun 12, 2018

at

11:05 PM

Hayley Kiyoko, Gavin Turek
The Underground
June 11, 2018

From the moment she walked out on stage until the final notes ringing out, Hayley Kiyoko brought a party to The Underground on Monday night. Recent hit "Girls Like Girls" played like an anthem in the early part of the set before Kiyoko recognized that it's Pride Month and time to celebrate. The sold-out Avidxchange Music Factory venue danced and sang the night away while the rain fell outside. Dancing whirlwind and pop-diva-in-training Gavin Turek got the party started with a 40-minute set full of pop music and dance grooves. You never would have guessed it was a Monday night.


Posted

By

Jeff Hahne on

Tue, Jun 12, 2018

at

10:58 PM

Japanese Breakfast w/ Dollhands, Faye
Neighborhood Theatre
June 9, 2018

With light-up shoes and non-stop energy, Japanese Breakfast's Michelle Zauner hit the stage on Saturday night and rarely stopped moving. Performing in front of a sold-out crowd on the Neighborhood Theatre's bar side stage, the quartet quickly got the crowd moving and didn't hold anything back. Zauner was all smiles for the duration of the set which drew from the group's two albums, 2016's Psychopomp and 2017's Soft Sounds from Another Planet, as well as a closing cover of The Cranberries' "Dreams." The night got started with short sets from two Charlotte indie rock outfits, Faye and Dollhands. Each quickly won over the crowd and set an upbeat tone for the night.



Japanese Breakfast setlist
In Heaven
Road Head
2042
Machinist
The Body Is a Blade
Diving Woman
Rugged Country
Boyish
Heft
This House
Till Death
Everybody Wants to Love You
Dreams