Last week, I sat at home nursing a baby while my Facebook feed filled with friends' DNC celebrity encounters and pictures of history being made a mere three miles away. I felt pretty lousy about having all these damn kids. (You know, when you're changing diapers instead of protesting for immigration reform or partying with the Foo Fighters, two children feels like a whole damn lot of offspring.)
This week, as I return to work for the first time since Pau was born, I feel awful about abandoning my precious infant who barely knows how to drink milk out of a bottle (he prefers it straight from the tap) and has never spent more than a few hours apart from his mommy.
Last week, I felt guilty about resenting my kids for keeping me from DNC activities. This week, I feel guilty about my job keeping me from witnessing every single one of my baby's milestones.
Newborns should come with a label that reads: "Warning, this product may cause schizophrenia."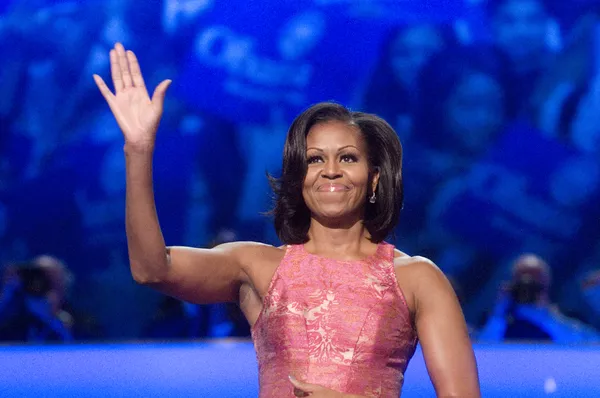 Michelle Obama, "mom-in-chief"
I have no doubt that becoming a mother is the best decision I ever made, but at the same time, there are many, many nights when I do a little jig and throw confetti in the air when both of my children are asleep in their beds. And as much as I missed my baby at work, it felt really good to speak in complete sentences and at a normal pitch again.
There are times, like last week, when I miss my old, carefree life so much that I mope around, huffing and puffing to my husband about how boring we've become. "What happened to us?" I ask. "We used to be so much fun and now ... I feel so old." And there are times, like Saturday morning, when all four of us converge on our bed and Luki gets a kick out of making his brother smile and Tony and I can't even fathom that there was a time when we used to sleep until noon on Saturdays because we can't remember life before these two boys.
I've heard a lot of moms — and I'm sure I've done it too — say that it's all worth it. All the sacrifices and sleepless nights, all the unattended parties and skipped concerts, all the missed political conventions are worth it for the sake of our children. Even Michelle Obama said in her speech that at the end of the day her most important title is still mom-in-chief. And I agree, my boys are the most important thing in my life ... but I still wish I could have been running around Uptown last week, rubbing elbows with our nation's political elite.
Having kids has made me more patient, more responsible, more loving, but it hasn't made me any less interested in world-affairs, in music or film, in conversations about things that are not poop. And while there are moments of motherhood that have brought overwhelming and all consuming joy and purpose to my life, most days are a mix of frustration, delight and utter exhaustion.
So, knowing what I now know ... would I do it all again? Yes, in a heartbeat. But I would plan Pau's birth for after the DNC.