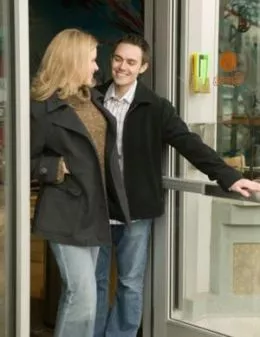 Once upon a time in the South, men held doors for ladies. These days, men actually expect women to open and hold a door for them.
Now, let me say that I'm far from an old fashioned girl; after all I'm waiting for a politician's sex tape to be leaked.
But like most women, I want my independence and a flash of old time chivalry. That's the 21st Century woman for you.
No one expects a man to lay his jacket on a mud puddle to be walked on [have you seen the cost of dry cleaning these days?], but coming to a complete stop and waiting for a woman to open the door for you is what P. Diddy calls "bitchassness."
There aren't too many things that I agree with Diddy on, but this would have to be one.
Now ladies, we're actually the reason chivalry died. You can trace the death back to two Destiny's Child songs: "Bills, Bills, Bills" and "Independent Women."
While we were flaunting our new-found girl power, we confused the simple minds of men. Did we want them to be ATMs? Were we really that strong to live without them?
And then we had some feminists who said men who hold doors for women are sexist.
Men who open doors for women are guilty of 'benevolent sexism' according to a new study by feminist psychologists.

Helping the ladies choose the right computer as well as carrying their shopping are also signs of 'unseen' sexism in society, according to the report.
Nail. In. The. Coffin.
So the next time a guy holds the door for you, say thank you. And if his hands aren't full, Sally says you are under NO obligation to open and hold the door for him!