click to enlarge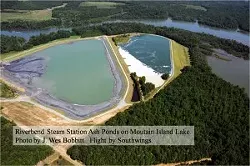 I've got good news and bad news regarding today's EPA coal ash hearing. But before I get into that, get the lowdown on what coal ash is and why it's such a big deal for Charlotte here.
One bit of trivia: The Q.C. is one of only a small handful of cities to host the EPA's series of hearings, but it's unclear why Charlotte was chosen. (The EPA usually holds hearings in Raleigh where they have a field office.) Contrary to the rumor mill, however, the agency says Duke Energy, which is headquartered here, did not request for the meetings to be held in Charlotte. The EPA says they chose the hearing locations based on requests from the public and proximity to coal ash ponds (there are four near Charlotte).
Makes you wonder, then, why they didn't schedule one in Tennessee*, Indiana, Ohio, Kentucky, Georgia or Alabama ...
Now, the bad news: I have it on good authority that the planned protest has hit some snags. Since the environmental groups that planned the original protest wouldn't tell us what they had up their sleeves to begin with, there's no telling how they'll work around this latest hurdle. Guess you'll have to show up to find out. Environmentalists are still asking their supporters to wear a "C" on their shirts to show support for Subtitle C — the option which will allow the agency to classify coal ash as "special," or hazardous, waste. (Learn more about the differences between the two proposed regulations here.)
In good and bad news, 205 people (myself**, included) have signed up to speak at the hearing. In really bad news, some folks are saying they signed up but didn't make the cut. (Hopefully the EPA will clear that up today.) Each speaker will have three minutes to talk. That means, since the testimony will begin at 10:15 a.m., it's expected to last until nearly midnight. I'm double booking this as good news, though, because, looking at the list of speakers, a lot of everyday citizens are signed up to speak. Go Democracy!
Also in good news, you don't have to be signed up to speak to attend the hearing, nor is it your last opportunity to weigh in on the issue. You have until Nov. 19 to comment via e- or snail-mail. Learn how here. (Be sure to follow the directions exactly so your message won't get mis-routed.)
And, in great news: If you can't make the hearing, you can still attend virtually by following the #coalash hashtag on Twitter.
* UPDATE: EPA has announced it will hold a hearing in Knoxville, Tenn., in late October, roughly an hour from where the 2008 coal ash spill occurred.
* SPOILER ALERT: I'm planning to talk about coal ash issues in my home state, Alabama (aka America's landfill), since there will be no hearing there — even though that's where the muck from Tennessee's 2008 coal ash spill is being dumped right next to a bunch of poor folks. Find out who else is registered to testify here.
*** SECOND UPDATE: More bad news: Diane Hofner, of the Concerned Residents of Portland, NY, traveled to Charlotte for today's hearing with a PowerPoint presentation. She wanted to show photographs depicting her state's practice of coating rural roads with coal ash. Not surprisingly, when it rains the coal ash runs off into area streams, eventually ending up in Lake Erie. The EPA has denied her request to share the slideshow with the hearing's audience (though said she could submit it to them), but she shared it with us. In the interested of the First Amendment, here it is (pardon the quality, the photos were taken on a hotel wall):
**** THIRD UPDATE: Hofner says she'll display her slideshow in Room 141 of the Holiday Inn where the hearing is being held at noon, 2 p.m., 4 p.m. and 6 p.m.
***** FOURTH UPDATE: The message here at the hearing is on repeat: If you're for Subtitle C (the EPA's regulatory option that will re-classify coalash as a hazardous waste), you're likely to be from the environmentalist, religious or general population. If you're for Subtitle D (the option that will require citizens to sue to enforce), you're likely working for a coal ash-related industry. Meanwhile, North Carolina Representative Pricey Harrison testified and asked the federal government to help, says her efforts to introduce tougher regulations for coal ash in our state get stalled and that enforcement is difficult.