In plays like Fat Pig and Some Girl(s) that have been staged in the Q.C. in the past, and Reasons to Be Pretty coming here in May, Neil LaBute painstakingly shows us what utter assholes guys can be. You might suspect that LaBute himself probably falls under his own merciless gaze. With The Mercy Seat, brought to UpStage in NoDa last weekend by the new Appalachian Creative Theatre company, you're pretty damn sure LaBute looked in the mirror more than twice as he wrote.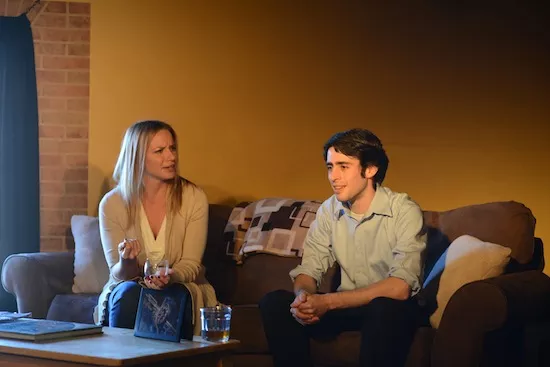 Ben Harcourt, our anti-hero, is already sleeping with his boss, partly in hopes of landing a promotion at work. By a rare stroke of luck, he detours to his mistress' apartment instead of reporting to his job at the World Trade Center on Sept. 11, 2001. When we first see him, it's Sept. 12, the day after the Twin Towers have fallen, and Ben still hasn't reassured his wife and two daughters that he's still alive.
He's staring into his cell phone when Abby Prescott returns to her apartment, not answering when it rings. Oh yeah, he's that cold and cruel to his family. But there's much more. Ben wants to use the presumption that he is dead to make a clean break with his wife and children - avoiding the mess of divorce, alimony, child support, and the revelation of his infidelity. He expects Abby to drop her career and start over somewhere else where Ben can assume a new identity.
Or to put it another way, Ben is planning to exploit the tragedy of 9/11 as if it were to be seen purely as an opportunity for himself - several degrees more dastardly, but not altogether dissimilar from writing a play about 9/11 that reduces the tragedy to a provocative plot point.
A couple of things somewhat dilute the crassness. Unlike some other LaBute doormats, Abby is not altogether cool with Ben's plans, for one. And we perversely appreciate the magnitude of 9/11 - or a fraction of it - through the odious stench that it imparts to Ben's whole cowardly enterprise. The idea that Ben would be memorialized with the same reverence as the thousands whose ashes were recovered - or lost - at Ground Zero gave me the shivers.
Appalachian's artistic director Justin Robert Attkisson certainly struck gold on his maiden voyage when he found Dan O'Sullivan to do Ben. With O'Sullivan's youth and delicacy, we could actually be tempted to empathize with Ben's sufferings when he whined them so sweetly and pathetically. Yet there were also moments when Attkisson turned O'Sullivan loose to bare his teeth before lapsing into inertia, giving the overall performance a haunting shape.
Memorably cast in recent years as the lady in distress headlining Dial M for Murder and Wait Until Dark, Caroline Renfro as Abby reminded us that she also has claws she can bare, as in her Eve Harrington when she did the title role of an All About Eve stage adaptation in 2003. Renfro was actually so bitchy and condescending as the older woman that it was quite possible to empathize with Ben for a good portion of this 88-minute tussle.
The set, co-designed by Attkisson and Amy Fine, made fine use of UpStage's side windows, and when the curtain was opened to look upon the devastation of Manhattan, a fire truck zoomed by obligingly with its siren blaring. But unfortunately, I had one of the best seats in the house, placed at extreme stage left so I could do the Boudreaux's Restaurant dinner option. If the action wasn't there at Abby's sofa, it was usually at Abby's bar at the extreme opposite end. Little of this tennis match was played out at center stage.
So I'd rate Attkisson's grasp of the LaBute script as far more advanced than his utilization of the UpStage space. Fielding such an immaculate cast straight out of the gate, Appalachian still has a fine jump on establishing a solid following. They've already set a precedent that should get some serious attention from other companies around town: they staged a Sunday evening performance - and the place was sold out. Eureka.