North Carolina House Speaker Thom Tillis was the toast of Uptown's Omni Hotel Tuesday night, standing victorious on stage with teleprompters at each side and cable news cameras zoomed in on the butch businessman with a Boy Scout crew cut.
Tillis survived a crowded field of Republican U.S. Senate candidates and did so without a runoff, earning 45 percent of the vote. Up in Greensboro, state Rep. Alma Adams claimed a surprisingly easy victory, with 41 percent in the Democratic primary for North Carolina's 12th Congressional District. Given the demographics of her district, Adams is effectively a congresswoman in waiting.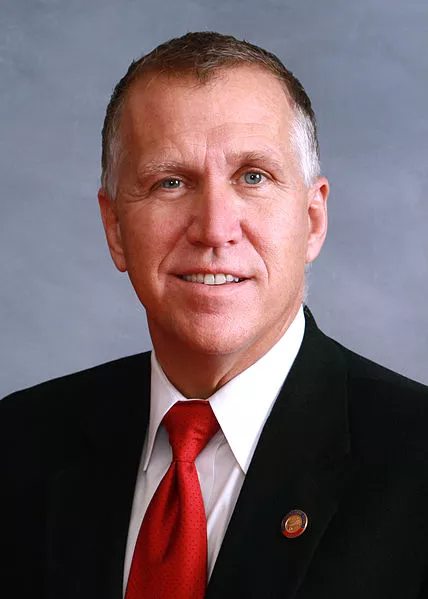 In the Senate race, I expected a field of eight Republicans to go to a runoff before deciding who would take on incumbent Sen. Kay Hagan in November. But in the final two weeks of the campaign, Public Policy Polling saw the momentum shifting toward Tillis; his ads saturated the airwaves and overwhelmed his underfunded rivals.
Tillis was the "establishment" candidate. He had endorsements from Mitt Romney, Gov. McCrory, Jeb Bush, Senate Minority Leader Mitch McConnell, House Speaker John Boehner and the NRA, with financial support from Karl Rove's American Crossroads super PAC and the U.S. Chamber of Commerce. Mark Harris was the favorite of the GOP's Christian fundamentalists, with backing from former Arkansas Gov. Mike Huckabee. Greg Brannon had the far-right; one of his last rallies featured a last-minute visit from Sen. Rand Paul of Kentucky.
But money made all the difference in this race. Nearly $15 million was spent during this primary, and $7,851,882 of it from outside organizations.

Tillis raised $3,363,600 and spent $2,195,741, while Brannon, who finished closest to Tillis with 27 percent, raised only a million and spent it all.
Tillis dodged a second match-up with Brannon, in a summer runoff, thanks to $2,440,321 in outside expenditures on his behalf, including $1,631,618 from American Crossroads, compared to just $176,461 in pro-Brannon advertising from FreedomWorks and the Tea Party Patriots.
But calling Tillis an establishment type fails to specify exactly what that means, or why he got the money. He is not cut from the reformer cloth of John McCain or from that of a moderate like Jeb Bush or even Romney.
This is Thom Tillis, who passed tax reform for the wealthy, a constitutional amendment banning same-sex marriage and a voter-ID law, while denying the existence of climate change and doing the bidding in the General Assembly for the American Legislative Exchange Council, a front-group for large multinational corporations.
Tillis was the candidate of big business, a pugnacious character straight out of an Ayn Rand novel who grew up poor but pulled himself up by his bootstraps in the working world with little sympathy for anyone who didn't. He sold out ages ago, and Rove bought him his reward: the Republican nomination for U.S. Senate.
But at least Tillis isn't crazy, like his self-righteous opponent Greg Brannon, who couldn't string together two sentences without trying to cite the constitution.
Brannon was a shameless phony, using appearances with Glenn Beck and endorsements from Sens. Mike Lee and Rand Paul to prop up a radically right-wing bid that included plagiarizing Paul's campaign website, misleading investors and addressing a secessionist group during a rally.
Mark Harris entered the race as the patron saint of social conservatism, the man who led the fight for Amendment One. But from day one, he ran away from his background, memorized talking points against Obamacare and came off as stiff on the campaign trail.
Brannon was too extreme even for GOP primary voters, and Harris was too uninspiring to mount a serious campaign against Tillis. The takeaway is that the GOP's existential crisis is coming to an end. It's been pushed to the far right, with Tillis sounding ultra conservative in the debates.
The Chamber of Commerce promised this to be the cycle where it purged the Republican Party of "loser candidates." It ultimately spent $450,000 on ads supporting Tillis in the primary and, with a ways to go till November, has already spent $450,000 on ads against Hagan.
Alma Adams wins the 12th
Adams defied all the experts by winning the 12th Congressional District outright, when most expected the race to come down to a runoff between her and either state Sen. Malcolm Graham or Charlotte attorney George Battle. (Graham finished with 23 percent and Battle with 12.) The district is too Democratic not to elect her in November, no matter how good a campaign Republican Vince Coakley runs.
It's possible to both be elated with the nomination of Adams and troubled by the prospects.
Adams gave a resoundingly liberal acceptance speech on Tuesday night, with a passionate pledge to fight for a minimum wage increase and for those in poverty, and to aggressively support President Obama's remaining agenda. It was a breath of fresh air in a district where Mel Watt, her predecessor, sat on the House Financial Services Committee and forged close relationships to Charlotte's banking industry.
But Adams did not run the best campaign in the 12th. She was perhaps the most deserving, based on her record, but Battle was the best candidate based on character. She was simply the leading fundraiser in the race, which, like the Senate race, also came down to money.
As of the beginning of April, Adams raised $352,783 compared to Battle's $227,174 and Graham's $166,545.
Adams' donations came largely from liberal special interests, including $2,699 from Planned Parenthood, $10,000 from Emily's List (along with $45,000 in independent mailings), and $10,000 from the National Education Association. In an age of unprecedented campaign spending poisoning democracy, we shouldn't welcome such outside influence, even if it's from organizations we like to help candidates we respect.
Local Results
Voter turnout in Mecklenburg County proved to be disappointing yet again, with only 63,677 out of 662,476 eligible voters showing up. That's about a 9.6 percent turnout rate, which was well under the 14 percent mark across the rest of the state.
Irwin Carmichael and Chris Hailey won their primary races for Mecklenburg sheriff, while Ella Scarborough was the top vote at-large candidate in the Democratic primary for county commission, followed by Pat Cotham and Trevor Fuller. The Republican at-large candidates in November will be Scott Carlisle and Emily Zuyus.
State Sen. Bob Rucho survived a Republican primary challenge from his left, defeating Matt Arnold 55 to 44 percent. And Joyce Waddell won the competitive Democratic primary to replace Malcolm Graham in the state Senate.
Other races of note
Clay Aiken is most famous as a former American Idol runner-up, but this morning he has a 11,634 to 11,265 vote lead over former N.C. Commerce Secretary Keith Crisco in the 2nd District Democratic primary.
A margin that close should trigger a recount, but if it stands, Aiken sits at 40.83 percent, enough to move on to face incumbent Renee Ellmers in a Republican-leaning district that gave Romney 57 percent of the vote.
North Carolina Supreme Court Justice Robin Hudson survived a three-way primary scare and perhaps the most appalling attack ad in the history of North Carolina politics, which wrongly accused her of being soft on child molesters. A conservative super PAC spent hundreds of thousands of dollars running that ad, trying to knock her out in the primary.
She will now face Mecklenburg Superior Court Judge Eric Levinson in the general election. While the PAC ads didn't work this time, if history is any indication, they will only get worse.