Holidays bring breaks from the daily work grind, new memories with the family, and for geeks, comic book deals at their local shops. Such was the case with Labor Day Weekend, when Heroes Aren't Hard to Find once again broke out its $1 box offerings. In this column, we take a look at items found in local bargain bins. Here are a few gems I snagged when visiting the shop this weekend. What did you grab? Let us know.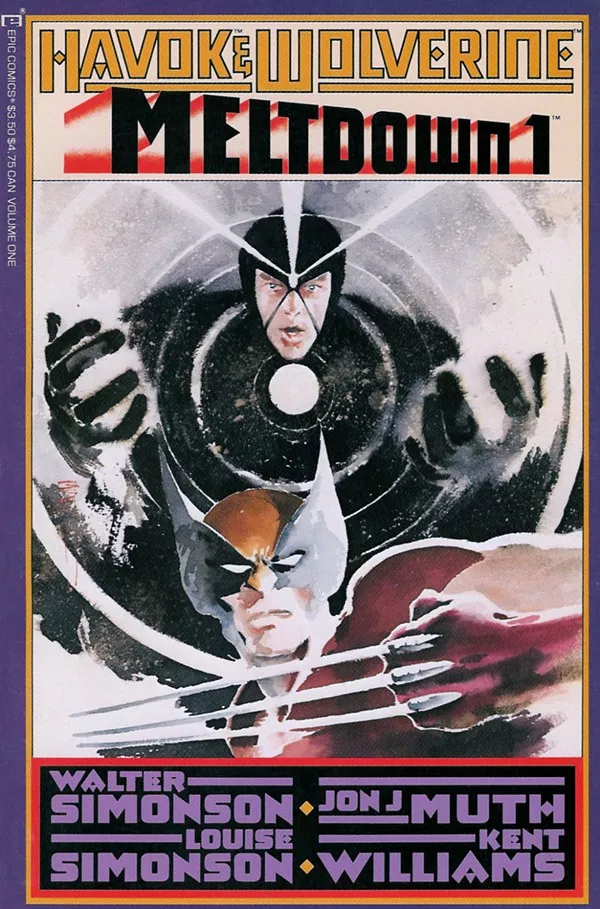 Havok & Wolverine: Meltdown #1
Back in the '80s, Marvel started the "Epic Comics" imprint, which provided creator-owned stories and side-tales with popular characters. An unlikely pairing of Havok and Wolverine was the focus of 1988's Meltdown, in which Wolvie must find his mutant friend. Walt Simonson is a celebrated scribe, but I picked this one up for the art.
The way Jon J.Muth and Kent Williams split their art between the characters, using different media and styles, is both unprecedented and gorgeous. I had read a collected edition (which takes out Havok's name in the title), but never encountered the original issues to the miniseries. Recommended for folks who miss Wolvie's '80s grit.
Grey #1
I'm pretty picky with manga. I'm always afraid of enjoying the first volume of the short, book-sized collections that populate entire rows of shelves too much, obligating me to purchase 20 more. But as I thumbed through a long box, Yoshihisa Tagami's cover to an English adaption of the series hooked me. My favorite part? A forward from American sci-fi author Harlan Ellison, who ponders aloud whether he influenced Tagami's work.
Ellison was told that the Japanese writer/artist was a big fan of his work, and he seems to be really into that idea. The bleak, post-apocalyptic tale may seem like pretty standard fare at first. Everyone seems to have a tank; currency is referred to as "credits." But manga-heads tell me to stick with it, because it's a fantastic ride. For a buck, I'll take a shot.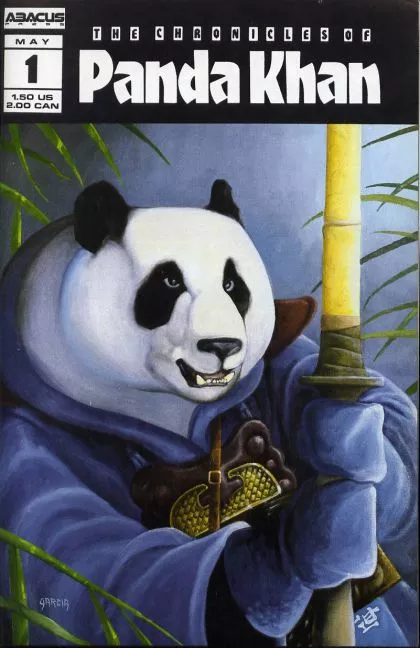 Panda Khan #1
First, a confession.
When you dive into the world of $1 books, you take chances. You skip research, and you say, "Why not?" In this case, I put The Chronicles of Panda Khan into my bag after only looking at the logo.
When I purchased this book, I thought I was buying a solo adventure starring a favorite side-character from Teenage Mutant Ninja Turtles' early toyline. But then after checking out, I realized that the panda that adorned this cover was not the fun-loving guy I thought he was; he was some character from Abacus Press. Clearly, this panda isn't the panda below.
But then, I was wrong again. Turns out, the book's creators were friends with TMNT-creators Kevin Eastman and Peter Laird. And this guy was the same, red-bandana-wearing guy that I first thought he was. He just looks different on the cover. Comics can be weird.
The West Coast Avengers #1
Some comics you pick up because you lost your original copy.
That's the case with The West Coast Avengers #1, the first in a regular series that was part of a strange time in Avengers' history. Hawkeye starts a new team of Avengers, in an effort to expand the reach of the team. With members like Mockingbird, Tigra and Wonder Man, the series seems like a B-lister. But it turned out to be great, and it lasted nearly a decade. Sure, it didn't make it to the '00s, but it's quite a feat for a series that highlights lesser-known heroes.
Somewhere between college and moves across states, my copy of this 39-page issue was lost. Getting it back for a buck made the entire trip worth it.
Fantastic Fanzine #1
Sometimes, I can geek out as both a comic book reader and journalist. This is the case with Fantastic Fanzine. When Wizard Magazine was starting out, there were a few other comic book magazines vying for the spot as a mainstream monthly guide to the medium. Arrow Comics was the independent publisher behind Fantastic Fanzine, and it offered a different kind of experience than Wizard: a bit of Variety mixed in with previews of its own upcoming comics. The industry gossip is particularly interesting, as the magazine talks rumors of a new, Frank Miller-led comic book imprint called "Dinosaur" and an Aliens Vs. Predator film slated for 1993.
The most interesting comic preview was for a book called The Dead, a zombie thriller that strangely resembles Robert Kirkman's smash-hit The Walking Dead. Except, this was 1993. Take a look for yourself below: