Roger Waters' The Wall
Time Warner Cable Arena
July 10, 2012
Halfway through "Comfortably Numb," Roger Waters let his microphone drop down toward his hips for a brief moment and his mouth stopped moving. However, his vocals sounded just as clear as they had a moment earlier. For anyone not sitting close to the stage, that may have been the only clue that Waters wasn't singing live for much of his performance of
The Wall
on Tuesday night at Charlotte's Time Warner Cable Arena. Unless, of course, you saw him cough during "Mother" or noticed he had nearly closed lips while belting out "In the Flesh."
Given Waters' admissions of using backing tracks and how weak his vocals have been in recent years (Live 8 in 2005, anyone?), it was hard to tell if he sang anything live, but most people in attendance probably didn't care. Pink Floyd isn't touring anymore, so this was about as close as anyone's going to get. And, after all, it's The Wall — a favorite for many music fans. But if not for the size of the production and the actual wall itself, it would have been a better fit as a one- or two-week run at Belk Theatre instead of masquerading as a full-fledged concert in a large arena.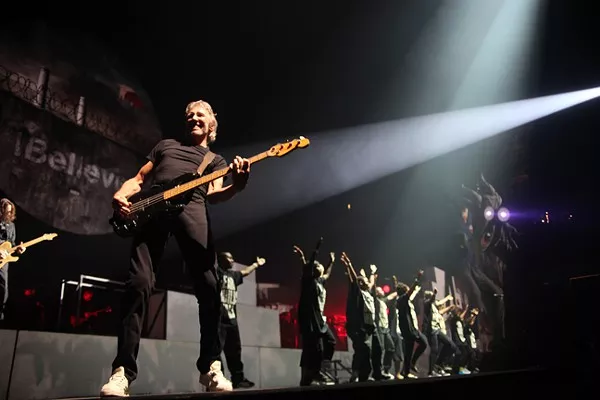 The performance, as a whole, went off without a hitch. Of course the vocals were clear, but there were moments you weren't sure the band was playing live, either. Why? It was
too
perfect. Nothing sounded amiss and if you
watch video
from any other tour stop in the last two years, it looks and sounds
exactly
the same — from the vocals to the music to the gestures Waters makes while performing. As hundreds of people held up distracting, glowing cell phones trying to videotape the performance, I wondered why they don't just buy the DVD.
While Pink Floyd would improvise and explore the terrain of each song the band played (I got to see Floyd perform live twice), Waters'
The Wall
is an exercise in performance like you'd expect during a play. The visuals were stunning — massive set pieces including an inflatable teacher and flower, a large plane flying through the wall, the construction of the wall onto which images were projected, etc. — but at times the band and Waters himself lacked emotion. There was too much "going through the motions" and not enough spirit brought forth. Maybe that's what happens when you perform the same exact show nearly 200 times.
At 68, Waters has reinvigorated the wall's theme with modern-day political images and the performance recreates The Wall from start to finish. Was it well done? Yes. Memorable? Of course. But lip synching is at the top of my shit list. If you can't sing and dance at the same time, maybe you shouldn't dance (Right, Ms. Spears?). And if at 68 you can't sing like you used to, maybe you shouldn't act like you are doing that, either.
Setlist
Set 1
Outside the Wall
In the Flesh
Thin Ice
Another Brick in the Wall 1
Happiest Days of Our Lives
Another Brick in the Wall 2
The Ballad Of Jean Charles de Menezes
Mother
Goodbye Blue
Empty Spaces
Back to the Wall
Young Lust
One of my Turns
Don't Leave Me
Another Brick in the Wall 3
Goodbye World
Set 2
Hey You
Is there Anybody
Nobody Home
Vera
Bring the Boys
Comfortably Numb
The Show Must Go On
In the Flesh
Run Like Hell
Wait for Worm
Stop
The Trial
Outside the Wall