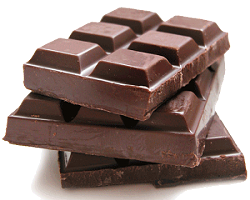 Ok, so I've been really slacking on my MIT Kitchen Chemistry course. It's been weeks and still haven't completed class #2, which is surprising, because this class is all about my favorite food – chocolate.
I've done my reading now and here are a few tidbits I learned from doing the homework questions:
* There is something common to both marijuana and chocolate. Chocolate contains "cannabinoid" chemicals, chmicals similar to the active ingredient in marijuana, as well as other molecules that cause brain cells to accumulate cannabinoid chemicals.
* Though high in sugar and fat, you can justify eating chocolate in moderation from a health perspective. The saturated fat in cocoa butter is a type of fatty acid that the body immediately converts to an unsaturated one, so it is actually beneficial to your heart. Eat up!
* The reason cats and dogs should not consume chocolate is because chocolate contains theobromine, an alkaloid and stimulant, which can be toxic to those animals.
The homework recipe for this week is "Death By Chocolate Cookie." If I get around to it, I'll try making it this week, but in the meantime, here's the recipe for those of you who want to try it.