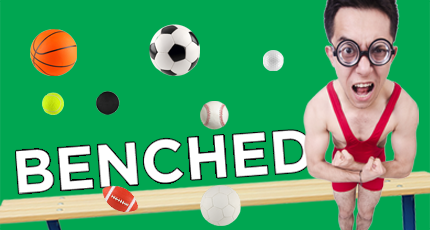 Normally, when Al Jefferson rolls his eyes and drops his head, he's about to start working the refs. After the game on Tuesday night, he did it out of relief.
The Bobcats-Hornets beat the Knicks to end a particularly pathetic losing streak, but he did not look relieved for that. He scored 35 - the most of any Bobcats-Hornets player this season. It wasn't that either. They snapped a nice win streak for the Knicks - who were sneaking into playoff position, but Jefferson sighed contemplatively for a whole different reason.
He dropped his head and rolled his eyes after sideline reporter Stephanie Ready asked him about the return of Michael Kidd-Gilchrist.
"Oh, man. He's our defensive captain," Jefferson said with a quick smile.
Anthony Tolliver, highlighted in the postgame with a slow-motion embrace of Kidd-Gilchrist and said, "We're so glad to have you back**."
His smile looked a little more effusive.
For fans, Charlotte looked like a different team entirely with Kidd-Gilchrist. That starts with his position mates.
The forwards on this team played a beleaguered month plus with patchwork schemes and rotations that included Chris Douglas-Roberts. Though his name contains a hyphen too, he did not have a professional job until Kidd-Gilchrist and Jeffrey Taylor (Achilles, out for the season) went down with injuries.
During the latest 1-8 stretch that I chronicled, the Charlotte defense fell apart in nearly every game. Without a stopper at any forward position, bigger teams bullied the paint and quicker teams got to the rim or used slash-and-kick offense to create open shots.
What Kidd-Gilchrist brought back with him made an immediate impact on both of those styles. The Knicks - albeit playing an altogether listless second night of a back-to-back - could not score in the paint since Jefferson and the power forward crew could relax on protecting the rim as much. New York also lost their midrange and three-point shooting games to Kidd-Gilchrist's effort against Carmelo Anthony.
His style of defense uses a lot of recovery. Vacillating between help defense and fantastic footwork in front of his man, his dexterity rivals the best defenders in the league. Therefore, his job has been to guard the best forwards in the league. On Tuesday night, he held Anthony to 20 points on a ton of shots.
Some of that certainly had to do with tired legs, but watching Kidd-Gilchrist work against the best pure scorer in the league (by many accounts, anyway) brought life into my fandom and, obviously, into the team.
With the big men able to stay at home, the guards could gamble more too. Kidd-Gilchrist had 2 steals, Kemba Walker could use his quickness to go under screens and still recover knowing Raymond Felton could not get straight to the rim. The pick-and-roll did not work at all for the Knicks. They had zero fast break points midway through the 4th quarter.
The defense advertised earlier in the season looked crisp, the rotation back to a minimal use of Tolliver and Douglas-Roberts and the energy ran higher than it had in weeks.
Kidd-Gilchrist may not resurrect the season, but he certainly makes it much more entertaining. As the team trudges toward the completion of the first half of the season, they have their lynchpin back.
Stephanie Ready had to ask Jefferson how he felt about MKG's return even though she knew the answer already.
She had seen the game.
*- Obviously, I wrote this before the awful Philadelphia game. Ugh.
**-I can clearly read lips.