click to enlarge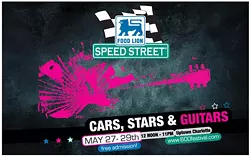 With one of the biggest weeks of NASCAR in Charlotte here, it only seems fitting to share Food Lion Speed Street Festival with fans of the sport and non-fans -- so you can hunker down indoors.
Kicking off TODAY and continuing through May 29 is an annual free festival that jump-starts the race weekend and leads up to the prestigious Coca-Cola 600 on May 30. You can expect a huge number of people (claustrophobic folks beware) at the fest, which features live entertainment -- Rodney Atkins, Morris Day & The Time, Josh Turner, Everclear, Corey Smith, Pat Benatar, Neil Giraldo and more -- vendors and displays, food, activities for children, interactive exhibits and special meet and greets and Q&A sessions with NASCAR drivers.
— Anita Overcash
For more information on Food Lion Speed Street Festival, visit www.600festival.com. For more information on the Coca-Cola 600, visit www.charlottemotorspeedway.com.