click to enlarge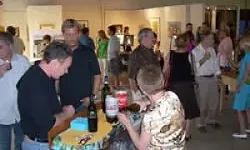 It's the first Friday of the month and you and your mate need to take it outside.
Hit the south side's gallery crawl this week. The South End Gallery Crawl is a bit different from NoDa's because there's a lot more real estate to cover and there's the Light Rail to ride if you have too much free wine.
The best place to start your date is the Charlotte Art League. The warehouse styled gallery is filled with the work of local artists and during gallery crawl, you can meet the artists. Also, many of the retail shops and restaurants in South End are open. A great place to share a cheap meal with your date on your evening out is Phat Burrito.
You can split a meaty (or bean filled) burrito or share a couple of tacos. The restaurant has outdoor seating, which will give you and your mate a chance to sit and watch people and the sites of South End.
After eating at PB, you're going to need to walk. And the best Doma art gallery on South Tryon. The fine art is great to look at and the current exhibit includes nudes, albeit abstract ones. But it's still nudes!