About 10 years ago, I began a stint as an independent consultant for Passion Parties. Women invited me into their homes to showcase and explain a variety of sexual enhancements - everything from lingerie to board games to cock rings to $200 vibrators. It didn't matter if it was a group of young college co-eds or a bible study group, the women got pretty rowdy. The parties were a safe, educational and supportive space for women to ask questions, get advice from friends, hear about new things to try, and touch, taste, and feel the products. I never made much money at the parties, but I had a great time and speaking about sex became second-nature to me.
Sex toys have been around, in one form or another, for thousands of years. Dildos were originally made of stone or wood, which I guess would make them eco-friendly before that was a selling point. Still, not that long ago, sex shops were hidden in dark alleys and were the supposed domain of bachelorette parties or horny old men. Today, there's an Adam & Eve store next to my favorite Mexican restaurant, and Amazon lists hundreds of toys in its inventory - nipple clamps, pocket rockets, butt plugs, and everything else. Now, the problem isn't where to find what you're looking for - it's how to decide among the many options.
What catches my attention is sleek design and tasteful marketing. I'm still a "good girl" at heart and I like my naughty play-things to look nice - sleazy '70s packaging is just not sexy. So I was pleased when at a conference last year, I came upon the We-Vibe table. The products are pretty to look at, thoughtfully designed and have some serious vroom! They are high-quality and a bit pricey but worth the investment if you're a fan of toys. Plus, some of them are pretty high-tech. Ladies, start your engines.
1. Tango ($79.99)
Typically, it takes two to tango, but not with this little guy. Whether you're playing with a partner or not, this small but powerful tool can get you where you need to go. With its angled edges and a wider surfaces for a variety of sensations, it resembles a tube of lipstick. It is waterproof and has eight - count 'em, eight - vibration modes. You can get two full hours of fun without needing to recharge. It's cute, compact and great if you're in a hurry (aren't we all?)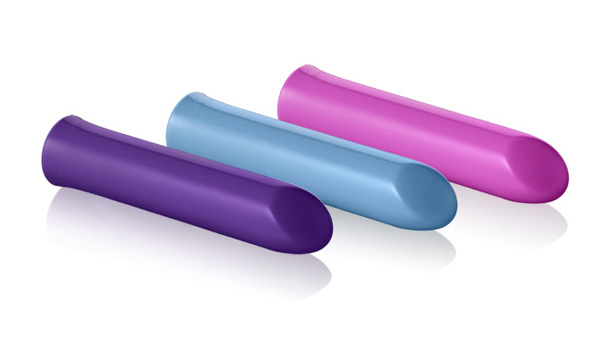 2. Thrill ($129.99)
The shiny red Thrill is a uniquely designed vibrator that puts the pleasure where women want it most - the G-spot and the clitoris, simultaneously. If you are looking to experience a blended orgasm, the Thrill may be your best bet. The handle lets a woman manuever the toy to her liking and eight vibration modes give her plenty of pulsing sensations to choose from. This toy is also waterproof, eco-friendly, and ready for two hours of fun without needing to stop for a recharge. When you do need to re-fuel, you'll have to use the USB cord since there's no power adapter. That's not necessarily a drawback, as it may just inspire you to get creative.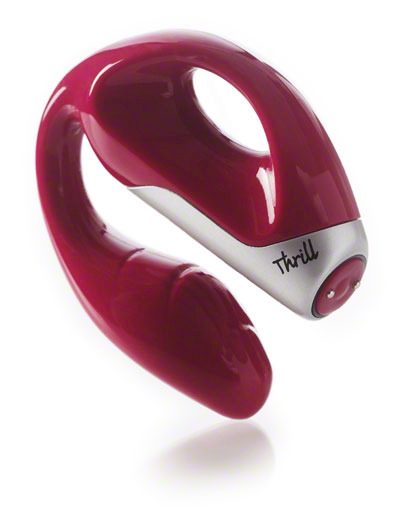 3. We-Vibe 3 ($139.99)
This toy definitely caught my eye. It looks like an Apple product. I like the discreet travel case, the wireless charger, and the six vibration modes controlled by a remote control (picture it in your man's hands). But what is really interesting about this is that it's made to wear during intercourse. Similar to the Thrill, it is contoured to hit both the G-spot and the clitoris, but it's a couples toy too. It's designed to be inserted prior to intercourse so that while she's getting it in all the right places, he's also getting a nice buzz. I like couples toys because they invite playfulness into the experience. Plus, toys encourage communication about what feels good, what doesn't, and what to try to make it even better.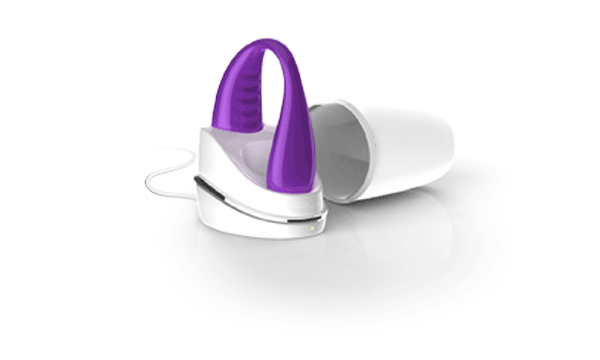 Visit http://we-vibe.com/ for additional product details and ordering information.