---
• Creative Loafing's 2014 Best of Charlotte Party took place at Wells Fargo Atrium on Oct. 3, 2014.
---
• Tawba Fest took place Sept. 20, 2014.
---
2nd Annual Iron Fork (March 19, 2014)
The 2014 event showcased five of Charlotte's best executive chefs battling it out in a head-to-head competition judged by top local foodies and celebrities.

Guests indulged in tastings from Charlotte eateries, craft cocktails, giveaways galore and entertainment at the 2014 event. Approximately 700 guests joined us at Iron Fork to root on the Charlotte culinary scene as well support our benefitting charity, the Ace & TJ's Grin Kids Foundation.
Owner and Head Chef at Chef Alyssa's Kitchen
Chef Alyssa took home the 2014 Golden Fork Award for her dish using the secret ingredient yucca root. She will automatically be invited back to participate in the 2015 event.
Congratulations, Chef Alyssa!
UNBRIDALED, (Jan. 30, 2014)
We danced, we drank, we ate - we even got wrapped up in silks and swung in the air (thanks to Aerial CLT!) at UNBRIDALED, a nontraditional wedding expo on

January 30, 2014. UNBRIDALED is the trendy, sassy, over-the-top event to ditch the traditions and find alternative ways to get hitched. Approximately 475 guests joined us as we said 'Screw the Southern Bride!' and explored dozens of vendors offering exciting, out-of-the-box ways to make any wedding a wedding to remember.
. . . . . . . . . . . . . . . . . . .
---
Tap That Craft, (Dec. 7, 2013)
Tap That Craft happened Saturday, Dec. 7. With a total of 120 attendees, we traveled around Charlotte via shuttles courtesy of Charlotte Party Charters, sampling tasty brews from Heist, Old Mecklenburg Brewery, Birdsong and Triple C. The breweries featured a variety of the newest or most popular beers for our attendees, including the introduction of Triple C's winter brew, White Blaze, tasted first by our attendees. Each guest received a Tap That Craft souvenir glass and each location featured a brewery tour or a 'meet the brewer' introduction.
---
Best of Charlotte Party (Oct. 2, 2013)
Creative Loafing hosted its annual Best of Charlotte party on Oct. 2, 2013, at Mint Museum Randolph. This event brings together area business owners, community leaders, local personalities and media for an evening of networking and entertainment, in addition to celebrating the winners of our annual Best of Charlotte issue. Food was courtesy of La Paz, Whisky River, Strike City, Bonefish Grill, Villa Antonio's, Revolution Ale House, Amelie's... A French Bakery, The Penguin and Harry's Grill & Tavern. The awesome photo booth was courtesy of Tap Snap. (See more photos here.)
Special thanks to our sponsors:
---
Martini Madness (Aug. 23, 2013)
Martini Madness, which happened at Label Friday, Aug. 23, was a bartender competition in which Charlotte's best bartenders compete head-to-head to prove they got what it takes to wow the crowd.
---
CL Art & Music Festival (July 20, 2013)
The 2nd annual CL Art & Music Festival happened Saturday, July 20 at the NC Music Factory. Five hundred attendees came out to the event, shopping the talents of local artists. From photography to jewelry to hand-painted wine glasses, the festival was not short on creativity. To add to the day, 5 local bands — The Wormholes, Brandon Kirkley & the Firecrackers, School of Rock, Pragidy GT and Randy Allen & The Southern Xpress — rocked the stage, giving the audience a true taste of the Charlotte music scene.
---
Field Day 2013 (June 8, 2013)
Field Day is a true celebration of summer as teams compete in old-school fashion to win it all. Events included Dizzy Bat, Chain Gang, Relay Race, Belly Bumpers, Human Buck Hunter and more. This year's event took place in the sandlots behind VBGB.
---
Iron Fork 2013 (April 17, 2013)
This event showcases five of Charlotte's best chefs battling it out in a head-to-head competition judged by four local foodies and celebrities. The winning chef, Chef Geoff Bragg of Peculiar Rabbit, received the coveted "Golden Fork" award and the opportunity to defend his title next year.
One judge's perspective and a photo slideshow can be seen here.
---
Best of Charlotte party: Oct. 3, 2012
Creative Loafing hosted its annual Best of Charlotte party to celebrate the biggest issue of the year. This year, we rocked out a little harder for our 25th anniversary. The theme of the Best of issue was Countdown to Armageddon. Amidst the hundreds of people who came out to the McColl Center for Visual Art for dancing, drinking, food tasting, photo booth and live entertainment were a couple of zombies. Yes, we said zombies.
To see more photos, click here.
---
Lust & Love Party: Aug. 20, 2012
Strip down to drink up! CL hosted the Lust & Love Party in August, where attendees came dressed in their best lingerie to get in the door. Check out photos here.
---
Fridays on 5th: Aug. 17
A night of no cover, food and drink specials, and great entertainment - all for FREE.

PARTICIPATING BARS:
---
CL Foodie Tour: July 28, 2012
On Saturday, July 28th, CL loaded up the bus with some hungry folks and gallivanted around Charlotte, sampling food and cocktails from select area restaurants. This time around, we checked out Mellow Mushroom for pizza, La Paz for mojitos and guacomole, and 10 Park Lanes for BBQ.

Thank you to our participating restaurants!:
Be on the lookout for the next Foodie Tour!
---
CL Art & Music Festival 2012
The CL Art & Music Festival is an annual event that celebrates local talent in arts. In addition to 25 select artists showcasing their skills (and offering their goods to the public for sale) local bands jammed out on stage throughout the course of the day.
Our inaugural event was held on June 16, 2012, and it was a great success, with 1,500 attendees coming out to the N.C. Music Factory to support local art. Many thanks to our neighboring restaurants for the great food served and a special thanks to the bands: Rhythm House Drums, School of Rock, The BlackHounds and Sun Dried Vibes!
Proceeds from the 2012 festival benefited the Back to Life Foundation. Be on the lookout for information about our 2nd Annual CL Art & Music Festival coming summer 2013!
Check out more photos at QC After Dark.
---
Field Day 2012
Creative Loafing's annual Field Day event took place on June 2 at Veterans Park. A record number of 37 teams signed up to play.
Field Day is a true celebration of summer as 30+ teams compete in old school fashion to win it all! 6 to 10 players per team with a minimum of 3 girls. Prizes awarded to top finishers!
2012 events included:
Dizzy Bat
Chain Gang
Relay Race
Belly Bumpers
Human Buck Hunter
Water Balloon Toss
Survivor Volleyball
Whipped in Your Face Race
And the Semi-Final & the Uber-Final Obstacle Course!

MANY THANKS TO OUR 2012 SPONSORS!

THANKS TO ALL THOSE WHO CAME OUT TO! CAN'T WAIT TO SEE YOU AT FIELD DAY 2013!
More photos of fun-time shenanigans!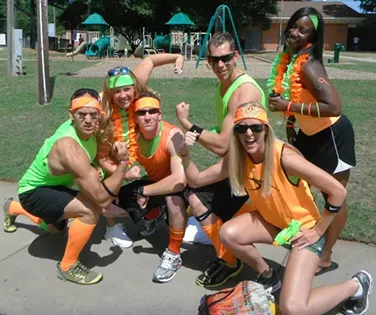 17 slides
---
---