Linda Pierce had lived in Hidden Valley only five months when she got a disturbing taste of what it's like to be an innocent bystander.
It was 5:30 a.m. Her family -- husband, adult daughter, son and two grandchildren -- awoke to a loud banging on the door. Pierce's daughter opened the door to a gun in her face.
"It was terrifying," Pierce says, recalling the story from the living room of her modest north Charlotte home.
click to enlarge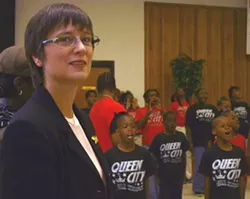 Legions of local, state and federal authorities had fanned out to several neighborhoods in the early morning, searching for men they believe to be members or associates of the Hidden Valley Kings. In all, police were searching for 20 men, but the guy they were looking for at the Pierce home wasn't there. Roscoe Abell, aka "Scoe" and "Big Bra," hadn't been there since before October, when the Pierce family began renting the Hidden Valley house.
It was the family's first home since moving to Charlotte from a small northwest Georgia home. They'd heard of 28-year-old Abell, but knew him only as a name on paper -- mail in his name still came to their address.
But in the predawn hours, it took time for authorities to realize the mix up. The family, including children ages 3, 4 and 12, stood in nightclothes as police searched every room, guns drawn. "My 12-year-old, he completely lost his mind," Pierce says.
The family had been unwitting bystanders in the largest gang arrest in years. "We just happened to move into the wrong house."
In recent years, talk of gangs in Charlotte has driven much of the public's concern about the city's crime rate. Some observers had tried to dismiss the existence of gangs, pointing to the problems that plague parts of larger metropolitan areas such as Los Angeles or New York. But the Hidden Valley Kings bust and other high-profile homicides have proven that while Charlotte certainly isn't L.A., it ain't Mayberry either.
Gangs the World-Class Way
Since Charlotte-Mecklenburg Police Department's Gang Intelligence Unit formed three years ago, authorities have documented about 150 gangs in Mecklenburg County and more than 1,900 gang members and associates. Capt. Eddie Levins says there are probably more groups in operation that the department doesn't know about. The numbers include everything from small groups of lawbreakers who've modeled themselves after the gang life depicted in pop culture to larger networks whose ranks include older gang members who have already served stints in prison.
The rising numbers reflect a trend as gangs continue to expand across midsized and even smaller communities across America. In 2005, more than 800,000 people were members of an estimated 30,000 gangs, according to the FBI.
Some Charlotte gangs, such as the Bloods and the Crips, emulate larger, nationally known counterparts. While dozens of local gangs may bear the Blood or Crip name, local police haven't found any cross-country affiliation. "We have no indication there's somebody in Charlotte sending money to a group in L.A. to support the overall function of the gang," Levins says. "Charlotte is mostly a hybrid city where you have neighborhood gangs who decided to take on the mannerisms and the customs of a specific gang. They think they know what they are, but most of them create their own rules."
But MS-13, or Mara Salvatrucha 13, is different. Often described as the most dangerous gang in America, it has been implicated in several homicides in Mecklenburg County. "We know that there is a communication network with a lot of those people because they're so transient," Levins says.
Mostly black males between ages 16 and 21, gang members in Charlotte have been linked to auto thefts, drug dealing, robberies and homicides. Twenty percent of people charged with robbery last year in Mecklenburg County were gang members, says Levins. In Charlotte, Levins says, even the majority of members of the El Salvadoran gang MS-13 are black.
But gang membership cuts across all races, classes and parts of town: One of the earliest groups that met the definition of a gang was the Dog Pound, made up mostly of white kids from affluent south Charlotte. And while women used to be strictly gang associates or girlfriends, Levins says, "they're taking active roles in crime; they're taking active roles in furthering the gang."
Some gang members have preyed upon Latinos they believe are illegal immigrants and thus less likely to report crimes to police. That has declined as the department has worked with Latin communities. The majority of the perpetrators were black, which some people have said created tension between racial communities. Other perpetrators, Levins says, were gang members coming, often illegally, from Central America, with the intent of ripping off other immigrants. "There was a ready supply of victims on a nightly basis that had pocketfuls of money, so you'd have groups of three to four people riding around in a car just spying victims like that in parking lots," Levins says.
The CMPD Gang Intelligence Unit's origins lay in worries as police began finding graffiti and linking homicides to gangs, such as an April 2003 fatal shooting at Lake Wylie and a January 2005 shooting on Albemarle Road that left a teenage MS-13 member dead. The unit's comprised of four detectives, a sergeant, the Gang of One prevention/intervention coordinator and patrol representatives from each of the city's 13 divisions. "Were gangs present 10 years ago? Yes. Were they called gangs? Some were. Some weren't," Levins says.
Home of the Kings
click to enlarge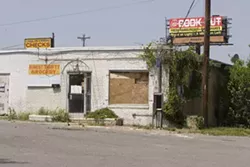 The Hidden Valley Kings date back at least a decade. The neighborhood from which their name is derived, bordered by Sugar Creek Road, North Tryon Street and Interstate 85, provided an ideal location. "It was a strategic plan by the leadership of the Kings 10 to 15 years ago," he says. "They realized that it has access to so many major corridors and an interstate, that it would be a good place to sell dope."
Already known to police and regular watchers of local TV news, the neighborhood quickly became Charlotte's most high-profile gang haven after the March 30 arrests that brought police to the Pierce family's door.
The charges against the 20 alleged gang members or associates include federal drugs and weapons charges. Authorities, in a 48-count indictment filed March 27 and unsealed three days later, allege the men conspired to divide the neighborhood into territories to control drug sales: cocaine, crack, pot and Ecstasy. The men at times required dealers to pay a block "tax" to be able to sell drugs in the Kings' "territory," and the gang operates a hierarchy in which its top leaders are "Original Kings." The next level of leaders is called "Original Gangsters" and leaders below that are known as "Baby Gangsters."
Deamasha Crosby, 17, says the arrest of her cousin, alleged Kings member, Emmanuel Ellis Keller, was unfair. The 23-year-old man, now in federal custody, stands accused of distributing crack in August 2006 and February of this year. "That's not him," Crosby says. "He's a totally changed man. He has a child," she says, as a toddler she identifies as Keller's one-year-old son plays on the floor nearby.
Who knows yet what will happen to the men whose alleged gang ties were made known with the unsealing of a federal indictment. Most of the 20 men named are still in federal custody.
Generally, most local gang members aren't in it for the long haul, said the Rev. Fran Cook, who heads CMPD's Gang of One program. "Eventually the gang just lets them go. We're in Charlotte, not L.A. or New York, Houston or Philadelphia. The gang members just don't have that kind of power here," she told Creative Loafing last month.
But by that time, Levins says, the damage may have already been done. "For the most part, they grow out of it or just want to disassociate from it, but the problem is a lot of things that happen to them during the time they're in the gang, so much damage is done to the person, to their reputation, to their criminal history, that it's sometimes not recoverable."
But the damage done by gangs and drugs is already evident in Hidden Valley. Its population, which last year was nearly 13,000, has grown in recent years, as have incomes and home values. But property values over time have declined, and homes are about 45 percent of the city average. And it's dropout rate, though decreasing, is about twice the city average.
Still, the neighborhood's middle- and working-class roots remain evident in the care most residents put into their homes and the disgust they voice when asked about crime. One man, who declined give his name, says he's lived in the neighborhood 10 years and has seen more troubling people move in -- "just a lower class."
A Charlotte native, he's lived in the neighborhood for a decade and hasn't witnessed the drug or gang activity exemplified by the recent Kings bust, but he's had lawnmower equipment stolen that he believes went to get addicts their fix. "It gets pretty bad, junkies and stuff," he says.
He was troubled by the Kings' arrests in March. He recalled coaching several of the indicted men back when they were in elementary school and he was their baseball coach at a nearby rec center. "They were good guys, just didn't have fathers and stuff," he says, sighing. "I just hate to see things like that."
After a pause, he continued: "Maybe it's society. Maybe it's them. Maybe it's a combination. I don't know -- it's just messed up."
William Mustafa, president of the Hidden Valley Neighborhood Association, strongly believes that local media has unfairly portrayed as a hotbed of gang and drug activity.
Regardless of the media images, many residents talk unhappily about the way the neighborhood has changed over the years. Pierce says neighbors have told her Hidden Valley once was a much nicer neighborhood. "Neighbors around here, they're pretty nice, the ones who've been here awhile," Pierce says.
click to enlarge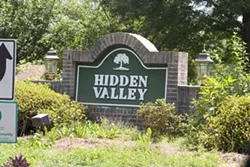 She doesn't feel safe now letting her children play outside, even though she believes the late March raid quieted down the neighborhood. Hidden Valley, with its occasional sounds of gunshots, was a far cry from Ringgold, Ga., just a few Interstate 75 exits south of Chattanooga, Tenn. "When it gets dark, everybody goes in."
That is, except for the kids that she believes are gang members. Then, they walk the streets, clad in long white T-shirts and extra baggy jeans. "They're just babies out there, being pushed out in this mess," she says.
The neighborhood is an anomaly of sorts. "There's not many areas like that," Levins says. Other gangs may congregate in other neighborhoods but commit crimes elsewhere. "They live with mom or grandmom ... and they don't want to do it close to home."
A Far Cry From Tripoli
Levins has been driving regularly to Raleigh to lobby for an anti-gang bill that would make it a crime to simply be in a gang, encourage someone to join a gang, threaten someone who wants to leave a gang or profit from gang activity. The measure also would provide tougher sentences for gang activity involving guns. Law enforcement groups have been pressing for this legislation, which could cost nearly $45 million the first year alone, for three years. While law enforcement and the N.C. League of Municipalities support the legislation, groups such as Families Against Mandatory Minimums say the legislation would expose teens to harsh sentences and a lifelong label as a gang member. The national group claims teens, as young as age 12 in the House version and 16 in the Senate version, could be deemed gang members simply for wearing similar hip-hop clothing and engaging in minor drug use offenses.
Levins says all people need to have an awareness of how gangs operate. "Now, should they walk around in fear? No, there's not indication that there's that high a number (of gang-related crime). There are random crimes throughout the city, but that's just like any crime. You need to take proper precautions no matter where you are. Whether you're at Eastland Mall or SouthPark, you've got to be just as cautious in either parking lot. There shouldn't be a hysteria about it."
Lest Charlotte's gang activity strike too much fear into your heart, consider this: The FBI estimates Los Angeles, the birthplace of the Bloods, Crips and MS-13, has 700 gangs with 40,000 members. And Chicago's notorious El Rukn gang had ties to international terrorism. The gang in 1985 brokered a deal with the Libyan government to attack "U.S. police stations, government facilities, military bases and passenger airplanes in exchange for $2.5 million and asylum in Tripoli," according to a 2006 report from the University of Virginia and George Washington University on prisoner radicalization. More recently than El Rukn, accused terrorist Jose Padilla has admitted to gang membership.
Of course, saying that gangs here aren't nearly as pervasive, organized or evil as they may be elsewhere isn't likely to be much consolation to people whose loved ones have been killed by gang members. Or in the Pierce family's case, even inconvenienced by them.
"If we had the money, we'd move out of here," Pierce says.