The squirt-sized black kid, maybe 8 years old, pedaled his shiny orange Mongoose bike around downtown Laurens, S.C. He scooted down a side street with a cheery "hello, mister" to a passer-by, then waved at a passing police car.
click to enlarge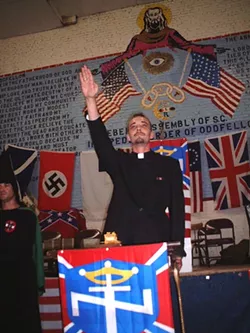 A few hours later, early on a September Saturday evening, the boy was back, zipping past the old Echo Theatre on Laurens' courthouse square. Inside, a convention of the white-supremacist Aryan Nations had just boisterously concluded.
The theater, now dubbed the World Famous Redneck Shop, is crammed with racist memorabilia, everything a fashionable bigot would need, from cheap Confederate flag flip-flops and bikinis to T-shirts that announce, "Ain't Racist, Just Never Met a Nigger I Liked." The shop's operator, John Howard, boasts that he's been a "member of the Ku Klux Klan for 40-some years," many of them as a grand dragon in the Carolinas. And he proudly points to a decades-old studio photo of him in emerald Klan robes.
The Redneck Shop was packed that day with like-minded racists from across the nation and even Europe. They'd listened to speeches with an unambiguous message: Hate Jews, blacks, Mexicans, gays, mixed-race couples, the FBI, "Jew-media" journalists, liberals, Arabs and Asians, more or less in that order. As the diatribes died down and the brutal ka-thud ka-thud of a hate-rock band filled the auditorium, the crowd, fully pumped with vitriol, began to exit into the Echo's lobby.
That's when the black kid rode past.
Howard, whose girth stretched an aquamarine knit shirt almost to the point of splitting seams, clambered down from a stool behind his sales counter, shook a stubby finger at the boy, and loudly sneered: "There's a nigger there I'd like to hang."
Snorts and hoots and hollerin' greeted Howard's just-shy-of-serious invitation to a child lynching. One rotund fellow in tattered overalls and a bushy blond beard winked at his compatriots, slapped his thigh and began an exaggerated pantomime of pulling a rope. Howard, picking up on the crowd's enthusiasm, hastily played a recording by a country band, what he chortled was "some damn good nigger music." The lyrics, unlikely to win a Grammy, began: "I'm an Alabama nigger and I wanna be free/I'm a member of NAACP."
ODDLY ENOUGH, the 24-hour high-octane orgy of racism billed as Aryan Nations' "25th World Congress" began the night before with a love story.
The official name of the organization is the Church of Jesus Christ Christian/Aryan Nations. Where you have churches, you have weddings.
On Friday evening, Senior Pastor Jonathan Williams, the leader of Aryan Nations and a resident of Conyers, Ga., had married an Alabama couple. The bride, Carrie, wore appropriately Aryan tattoos and a beige gown. The groom, Joseph Frieda, sported the powder-blue uniform shirt of Aryan Nations. The star was the couple's lovely blond daughter -- not more than 6 years old, beribboned, adorned with flowers and attired in a dazzling, crisp white dress -- who precociously charmed strangers in the congregation by proudly talking about her mommy and daddy.
The ceremony was the conventional "I do" ritual -- conventional if you ignored Williams' bodyguard standing stage right dressed in ebony Klan robes and a towering black hood.
One of Aryan Nations' inner circle, Shae Spring from Arkansas, quipped just before the service that she could hardly wait to get out of her dress clothes, "put on a Nazi T-shirt and kick back."
After the nuptials, Williams ended the ceremony with an enthusiastic swinging-arm Nazi salute.
"Heil Hitler!" rippled among the 20 well-wishers.
click to enlarge
THE TRUE BELIEVERS in an all-white America arrived Saturday morning. They came from Florida, Washington, Wisconsin, Idaho, Arkansas and most of the states in the Deep South. At least two crossed the Atlantic to attend. By 1 p.m., the old theater auditorium was packed with a crowd dressed largely in black T-shirts and with more tattoos per square inch of flesh than would be found at a skin artists' convention.
In the theater's balcony, arcing over the audience, was Howard's "Klan Museum," now officially closed but still displaying artifacts such as KKK emblems and photos of cross-burnings. Nazi flags were draped from two-story-high scaffolding inside the theater. The tower's bottom bars served as a makeshift closet to hang Klan robes when not in use.
More banners were strung together across the back wall: Old Glory; Old Glory stripped of its stars with the Aryan Nations emblem in their place; the classic swastika flag of Nazi Germany we all know from movies; the rampant lion on the yellow-and-red Scottish flag; the white background, blue box and red cross of the Christian flag; and the absolutely essential Confederate battle flag. Behind the pennants, the light blue wall was adorned with a bigger-than-life-size drawing of Jesus and, discordantly for an Aryan Nations congress, "brotherhood of man" inscriptions of the International Order of Odd Fellows (which wasn't part of the gathering).