What makes you lustworthy? Girl, I think I'm the total package. The complete package means in all areas of womanhood: from being domestic to being a homemaker to being a businesswoman to being independent, but at the same time, being vulnerable and knowing when to open up your doors to love.
click to enlarge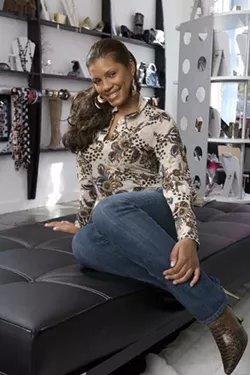 Corniest pick-up line used on you? [There have] been so many. Like, "I wish I were in your jeans." The worst could probably be similar to: "Ay girl, come over here with me" or something like that.
Most romantic thing someone's ever done for you? Uh ... wow, that's kinda hard. When I got home from work, my house was clean and bath was ready.
Last book you read? Actually, I'm still reading it. It's Coretta Scott King; her biography. It's very good. She did a lot of small things in her community before she even met [Martin Luther King Jr.], so they kinda were on the same path. She went to a college up in New York to be in musical theatre. She gave up her career for him.
What's a deal-breaker for you? If he's ignorant. Like, I have no tolerance for ignorance. Anything small that anybody can say that's ignorant kinda just drives me bananas. When people stereotype people or generalize, I just hate comments like that. Most men would probably be good with dating women if they would just think about what they say before they say it. They just don't think before they speak.
Where are you from? Brooklyn.
You like Charlotte? I love Charlotte. Here, you can get what you want to get from it. It's all what you make it. If you want to party all night, you can do it. If you want to plan a peaceful, quiet [night at] home, you can do that. It's very versatile.
Handcuffs or scarves? Scarves. More sensual. You can unloosen a scarf. The curiosity of whether or not a person can unloosen is a little bit more exciting than being in handcuffs knowing you can't get out. I like the tease; the temptation [that] they might be able to get out of this scarf, but maybe not.
First date, third date or fifth date -- when do you put out? When I feel both of us are adult enough to handle whatever's going to happen after. Definitely not the first date. Probably not even the third date. If the chemistry's there and we both like each other.
Lust List 2007
Dutifully serving Charlotte's SINful desires since 2006
Lust List
Bartender @ Coyote Ugly
Lust List
Doorguy @ Dixie's
Lust List
Boutique Manager @ Glamour Puss
Lust List
Doorgirl @ Forum
Lust List
Bartender @ CANS
Lust List
Head Stylist @ Lotus, Phillips Place
Lust List
Barista @ Starbucks
Lust List
Bartender @ Phil's
Lust List
Manager @ Abercrombie & Fitch, Carolina Place