It's swampy backstage at the Visulite Theatre. In the cramped quarters, former home to the venue's long-departed rear-screen projection system, girls in various states of habille and dishabille prepare for the night's show. The last-minute wardrobe checks and good-natured, hardboiled banter are the stuff of myriad black-and-white stage-door movies that descend a winding staircase past the heyday of the Ziegfeld Follies and the Folies Bergère to theater's earliest performances.
click to enlarge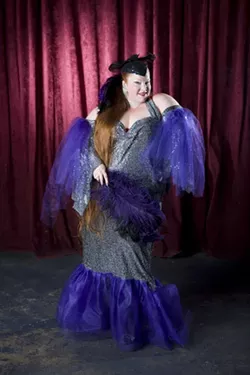 Leaning on the counter of the makeup mirror, the evening's bouncer -- a Valkyrie in a skin-tight black sheath with a cutout spider-web yoke -- contemplates headgear options, eventually ditching an exotic turban in favor of a "don't-fuck-with-me" beret. Garbed in a white lace, floor-length gown, Atlanta-based ecdysiast Talloolah Love, looking for all the world like a zaftig reincarnation of Amy Semple McPherson preparing to lead the faithful to glory, adjusts her corset stays. Freshly arrived from the airport, a modern-day flapper endowed with the insouciant stage soubriquet Tits McGee -- and only a modestly sized bosom -- discreetly changes her frock in the ladies' room. Oh, the irony.
"Tits!" hollers a voice that could rattle the back row at Radio City. "Quit hogging the air conditioning!" (Apparently, the only functioning AC is located in the loo.)
The source of the clarion call is Big Mamma D, aka Deana Cochran, the one-woman "juggernaut" whose determined vision and Herculean efforts have almost single-handedly been responsible for bringing the burlesque arts back to Charlotte.
The L-shaped dressing room is divided into two sections. The smaller portion, two steps up, frames its occupants like red-light divas in an Amsterdam window. Stretched across the divan, Big Mamma D, larger than life and garbed in a slinky silver number, is holding court. At her feet, Nashville's Miss Lolly Pop -- a petite Sandra Dee/Betty Hutton blonde channeling Candy Barr -- sits on the floor, barefoot, applying the finishing touches to her stage makeup.
With less than three hours until the curtain goes up, Big Mamma has a lot on her mind; so much in fact, that she's forgotten her music and has had to send someone home to fetch it. It's a minor snafu, which the chanteuse takes in stride, but there's a lot riding on tonight's performance. In addition to attending to all the last-minute details of the show for which she functions as producer, director, press agent, seamstress and wardrobe mistress, Big Mamma has planned a very special finale in which she will wed long-time beau and fellow cast member, emcee Johnny Anonymous (David Pendragon) in a real-life, onstage ceremony. "I got so fed up with, 'We'll do it later.' And it was me putting it off. It finally hit me that I'd never have time to plan a wedding when I was planning a show, so it only made sense to do it as part of the show," she says.
Big Mamma is showing off the beautiful black-and-white wedding ensemble with corseted top and matching veil she's created, when duty calls. In the front of the house, there is a cry for duct tape to cordon off the area where Sideshow Bennie will be eating fire. (Big Mamma loves to see her audience sizzle -- but not literally.) Onstage, the juggling Fettuccini Brothers rehearse a hat-swapping act that would give Harpo Marx a run for his money. After some wrangling, duct tape is located and dispensed. The situation handled, Big Mamma disappears to put out whatever other fires remain before the show begins.
While Big Mamma D is an acolyte of classic burlesque, her shows embrace an amalgam of burlesque, vaudeville and musical theater, with a little touch of carny on the side, and she sees no conflict in mixing media. "The definition of burlesque is just a mockery or a sham," she explains. "When you go back to the [1700s] and 1800s, people were burlesquing the major plays of the times. Whatever was onstage, they would make fun of and parody. Around the turn of the 20th century, when vaudeville shows got popular in live theaters, they would bring in a headliner girl and maybe one or two others who had worked their way up from the chorus." The great divide came when some promoters realized that it was the scantily clad girls who were bringing in the money. While vaudeville had its share of "va-va-va-voom," eventually, burlesque evolved into a showcase for strippers, and many theaters became strictly burlesque houses.
As the demand for talking pictures increased, vaudeville took a nosedive. One casualty was the 1,450-seat Carolina Theatre on Tryon Street, the original home of vaudeville in Charlotte. Opened in 1927, the theater has been dark since 1978. Says Charlie Clayton, president and founder of the Carolina Theatre Preservation Society, "The theater has a 40-foot proscenium stage that's 29 feet deep. It originally had dressing rooms right and left and a 40-foot fly space. It was the only theater in town that had live stage performances from 1927 to 1955 [it was replaced by Ovens Auditorium in '55]." The last vaudeville act played the Carolina in the mid-'30s. "The theater got a big makeover in 1938 to accommodate sound movies. That was the end of vaudeville," says Clayton, who, with the city and investors and developers, is in the process of restoring the Carolina to its former glory.
Burlesque managed to continue to eke out a niche for several decades following vaudeville's demise, until it was eventually replaced by strip clubs as we know them today. In some ways, Big Mamma sees herself as the keeper of the flame. "Sideshow stuff never made it to vaudeville," she says, "but these are dying arts, so of course, I'm going to go for it. I love the fact that there are all these different acts just begging to find places to perform. Sideshow and burlesque go hand in hand."
Big Mamma, the only child of extremely conservative parents, hadn't planned on a career in show business. She was premed. "There was too much regimentation in the medical industry," she says. "I'm a common-sense fixer. I was too free form to be a doctor ... My family is fundamental Baptist, but I promised them that I'm a 'good girl.' They're not hugely in support of [burlesque], but I'm not doing anything bad or criminal. They have no idea how classy and beautiful what I'm doing is because they've never been to a show."
While she wasn't born in a trunk, Big Mamma she says she's had an interest in costuming and theatrics for as long as she can remember. "For my senior prom, I made Lady Kate's wedding dress from The Taming of the Shrew. It went on from there, and I started doing re-enactments and pirate stuff. I was also doing some singing with some bands, and I played the violin. I hadn't been performing in a while, and last year I decided I was going to do a show. Burlesque just came to mind because it's fun and it's sexy, but it's also intelligent. We figure out how we're going to make you think while you're being entertained."
click to enlarge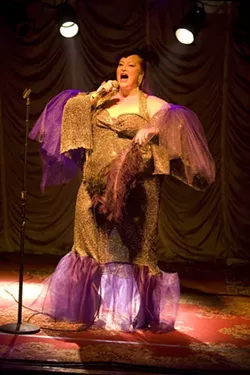 After setting her sights on burlesque, Big Mamma began to do her homework. An Internet search brought her to the Miss Exotic World Hall of Fame, a museum just outside Las Vegas, run by 82-year-old former dancer Dixie Evans. "She's got the most beautiful pieces of history. She's got Sally Rand's fans ... The burlesque community is small enough that all you have to do is get on the grid and you meet everybody. You meet the people who are the best in the world right now. I can call them tomorrow," says Big Mamma, who adds that she learned many of the tricks of the trade by watching legendary performers on retro videos. "Little Egypt scared the world with her tits at the World's Fair in 1893," she says. "Shakira ain't got nothin' on Little Egypt."
Once Big Mamma found her calling, there's been no stopping her. "The first show went up Aug. 5, 2006; everything I needed to get, I got. All the doors opened for me. Everything lined up." Still, it's been a learning process. "We've gotten so much better," she admits. "With every show, I promised myself I'd put the money back into production. The first few shows, we didn't have spotlight, but we keep adding little things like that to bump up the production values. Every penny I make in my day job goes into the show. I'm usually broke by the day of the performance."
Big Mamma's first two shows were at The Spot. "We were scheduled to go on for our third show on a Saturday night, and that Wednesday, they closed their doors and shut the business down," she recalls. "My original plan was to get about three shows under my belt, and then really hit the Visulite hard. The minute I got the call that we were out, I went to the Visulite's Web site. I found out they were dark that Saturday night, so I called up my DJ, Scott Weaver, who had done a show there a couple of days before, and I got Bernie Brown's number. I called Bernie and said, 'I've got a show, and it's ready to go. Everything is done. You're dark Saturday. What do you say?' He said yes." Even with the last-minute switcharoo, 120 people showed up, and Brown invited Big Mamma and her troupe to stay on for the rest of the 2007 season doing bimonthly shows. "It was serendipity," she says.
Audiences have continued to grow. "I got just over 300 in March," says Big Mamma, who does the bulk of her marketing on MySpace and by word of mouth. "It's very targeted," she says. "For instance, I took the Penguin's friends list and added them all to my MySpace page because I knew that crowd would be into something different."
"Charlotte is all DJs and live bands for the most part," says native Charlottean Hannibal the Magician (who commands five grand for corporate gigs, but performs for Big Mamma pro bono because he enjoys her shows so much). "You've got the Blumenthal running The Lion King, and four weeks out they're advertising it as the biggest thing in the city. But you've got local people at a grassroots level who are really turning out some great, fine alternative art that is largely being ignored here." But Big Mamma's audience is a mixed bag. "When I go out and mingle with the crowd," Hannibal admits, "there are people from corporate America all the way down to the Penguin crowd. The wife of a CEO from one of the big Fortune 500 companies in Charlotte hasn't missed a show, and she brings a bunch of her friends."
"We get everyone from 18-year-olds to my oldest patron, who is 72. My audience is probably 70:30 ratio of women to men," says Big Mamma, who only expects the numbers to continue to climb. "Burlesque is huge right now. I just got back from Las Vegas for the 50th Anniversary of Miss Exotic World. All of the legends perform once a year for this reunion. There were about 2,000 people there."
But according to Big Mamma, while burlesque is hot in Atlanta and Nashville, as well as the Queen City, the boom is not a Southern phenomenon. "We're at the end of the train," she notes. "It's just burgeoning here, but it's been going on for two years in L.A. But Charlotte is growing. I think the city is tripping over itself to move faster. It isn't big enough yet to support all the artists that are here yet, but it will be, and there's a lot more interest coming in. All of the large condos that are going up downtown, like the Trump Tower, and all the big businesses that are moving in are going to bring people who have a more refined taste and want to progress."
"And the Charlotte citizens that were born here -- the hardcore Southern Christian people -- are moving out to be in quieter places like Indian Trail or Monroe," Hannibal adds. "They're reaching that point in life where the noisiness of the city just doesn't appeal to them anymore."
Big Mamma relies on a revolving core group of burlesque babes from several Southern locales to flesh out the bill at each performance. In addition to Tits McGee, Talloolah Love and Miss Lolly Pop (and her husband, Larry the Panty Boy), this evening's review will showcase the estimable talents of Monique Honeybush and Veronica Lashe. (Diamond Ice, the fan dancer, couldn't make it.) Also on hand are Hannibal the Magician, country crooner Hick'ry Hawkins, and Lefty LeBlue, who shares emcee duties with Johnny Anonymous.
While the material skews closer to a G-string than a G rating, there is absolutely no hardcore content (if you're looking for a half-hearted pole dance from a bored exotic dancer who'd rather be anywhere else, you've come to the wrong place), which is not to say that there isn't stripping; there is, and plenty of it. The emphasis here, however, is on the titillation, not the tits, and nowhere is this more evident than in the fact that Big Mamma's shows glorify -- not objectify -- women who do not fit the current archetypes of feminine beauty.
"I love the fact that the women in the show are all kinds of body types," says Tits McGee, who has been with Big Mamma since the first Charlotte show. "One of our goals is to show the audience that you don't have to fit within a very narrow confine of what society deems attractive. Society doesn't necessarily think plus-size women are sexy, but look how sexy these women are. They're stunning! Every time Talloolah Love and Veronica Lashe come up to do a show with us, I'm just in awe of them. I think it's amazing that we can all go up there and perform, and people think that we're beautiful in our disparate ways, and that we can find that beauty in ourselves and present it onstage."
By the time Johnny Anonymous and Lefty LeBlue take the stage to announce the opening number, the Visulite is packed with everything from the merely curious to rabid fans. Lipstick lesbians mingle with middle-class housewives next to vintage hippies and ramped-up Gen Xers looking for the next new thing. As the spotlight hits Big Mamma, turning her dress an iridescent gunmetal blue, the room swells with her potent voice: "What good is sitting alone in your room? Come hear the music play. Life is a cabaret old chum, so come to the Cabaret." The audience is hooked.
Some highlights of the evening: Talloolah Love sheds her saintly white garb in favor of an S&M outfit replete with pasties and riding crop. Hannibal the Magician, sporting a pair of enchanted red-and-white wingtips, pops five double-edged razors into his gullet, then fishes them out with a line of dental floss, followed by some pretty amazing card tricks. Miss Lolly Pop cheerfully strips to a perky tune after knocking off her cad of a hubby (who miraculously springs back to life at the end of the number to clear the props from the stage). Sideshow Bennie eats enough fire to barbecue the three-foot prop hot dog Monique Honeybush so profoundly relishes in an upcoming act, and later lets audience members staple tip money to his chest. Hick'ry Hawkins, the lovechild of Tom Waits and a Kewpie Doll in a rhinestone cowboy shirt, plaintively plucks his guitar and wonders, "What kind of panties are you wearing tonight?" The Fettuccini Brothers, as gifted at gab as they are juggling, swap pins to the old Monty Python standard, "Sit on My Face and Tell Me That You Love Me." Veronica Lashe and Tits McGee perform a couple of rousing, 21-gun, "Jell-O in an earthquake" tributes to the troops that could compel even a pacifist to enlist.
The evening is a major hit. As Big Mamma and Johnny Anonymous exchange vows, it's the icing on the cake.
Big Mamma's next show at the Visulite will be Sept. 8, but she's got something even bigger in the works: The 2008 Great Southern Exposure Convention. The coming Easter weekend, burlesque performers from across the country will descend on Charlotte for a five-show extravaganza featuring today's top acts along with several living legends. "Let me tell you, you have not lived until you've seen Tempest Storm do a 10-minute bump and grind," says Big Mamma, who plans to set up the proceedings so that people in the industry can meet one another to network. "I want them to be able to learn things, too," she says, "like how to run a business, how to promote yourself, how to work on the next show, get the costuming you need." So far, she's got confirmations from New York, California, Atlanta and Nashville. "I'm just building it. I want to get everyone out here so they can have some fun."
And if Big Mamma builds it, rest assured, they will come. "At birth, you're like a spinning compass," she says. "You don't know which way you're going, or what you're going to do, but you just want to get there, so you keep moving and moving. 'I want to dance. I want to sing. I want to be onstage. I want to play the violin. I want to be a doctor.' That was me. Then I slammed into True North with this burlesque thing, and as far as true burlesque going on in Charlotte, there is nothing going on except for what I'm doing" -- although, she says, nothing would please her more than to see another troupe start up in the area. "With my show, I have to pull the cart and put the wheels on it, too. I do it all. And I'm perfectly willing to do that, as long as it keeps the show going. I had nothing to start this convention with, but whatever I need, I am going to get, and there's not a damn thing that's going to get in my way."
Somehow, we don't doubt it.