Page 2 of 4
Burlesque managed to continue to eke out a niche for several decades following vaudeville's demise, until it was eventually replaced by strip clubs as we know them today. In some ways, Big Mamma sees herself as the keeper of the flame. "Sideshow stuff never made it to vaudeville," she says, "but these are dying arts, so of course, I'm going to go for it. I love the fact that there are all these different acts just begging to find places to perform. Sideshow and burlesque go hand in hand."
Big Mamma, the only child of extremely conservative parents, hadn't planned on a career in show business. She was premed. "There was too much regimentation in the medical industry," she says. "I'm a common-sense fixer. I was too free form to be a doctor ... My family is fundamental Baptist, but I promised them that I'm a 'good girl.' They're not hugely in support of [burlesque], but I'm not doing anything bad or criminal. They have no idea how classy and beautiful what I'm doing is because they've never been to a show."
While she wasn't born in a trunk, Big Mamma she says she's had an interest in costuming and theatrics for as long as she can remember. "For my senior prom, I made Lady Kate's wedding dress from The Taming of the Shrew. It went on from there, and I started doing re-enactments and pirate stuff. I was also doing some singing with some bands, and I played the violin. I hadn't been performing in a while, and last year I decided I was going to do a show. Burlesque just came to mind because it's fun and it's sexy, but it's also intelligent. We figure out how we're going to make you think while you're being entertained."
click to enlarge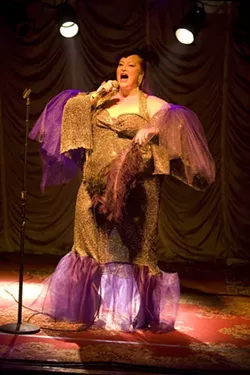 After setting her sights on burlesque, Big Mamma began to do her homework. An Internet search brought her to the Miss Exotic World Hall of Fame, a museum just outside Las Vegas, run by 82-year-old former dancer Dixie Evans. "She's got the most beautiful pieces of history. She's got Sally Rand's fans ... The burlesque community is small enough that all you have to do is get on the grid and you meet everybody. You meet the people who are the best in the world right now. I can call them tomorrow," says Big Mamma, who adds that she learned many of the tricks of the trade by watching legendary performers on retro videos. "Little Egypt scared the world with her tits at the World's Fair in 1893," she says. "Shakira ain't got nothin' on Little Egypt."
Once Big Mamma found her calling, there's been no stopping her. "The first show went up Aug. 5, 2006; everything I needed to get, I got. All the doors opened for me. Everything lined up." Still, it's been a learning process. "We've gotten so much better," she admits. "With every show, I promised myself I'd put the money back into production. The first few shows, we didn't have spotlight, but we keep adding little things like that to bump up the production values. Every penny I make in my day job goes into the show. I'm usually broke by the day of the performance."
Big Mamma's first two shows were at The Spot. "We were scheduled to go on for our third show on a Saturday night, and that Wednesday, they closed their doors and shut the business down," she recalls. "My original plan was to get about three shows under my belt, and then really hit the Visulite hard. The minute I got the call that we were out, I went to the Visulite's Web site. I found out they were dark that Saturday night, so I called up my DJ, Scott Weaver, who had done a show there a couple of days before, and I got Bernie Brown's number. I called Bernie and said, 'I've got a show, and it's ready to go. Everything is done. You're dark Saturday. What do you say?' He said yes." Even with the last-minute switcharoo, 120 people showed up, and Brown invited Big Mamma and her troupe to stay on for the rest of the 2007 season doing bimonthly shows. "It was serendipity," she says.
Audiences have continued to grow. "I got just over 300 in March," says Big Mamma, who does the bulk of her marketing on MySpace and by word of mouth. "It's very targeted," she says. "For instance, I took the Penguin's friends list and added them all to my MySpace page because I knew that crowd would be into something different."