BEST RADIO STATION
WFAE 90.7 FM
For the past several years, we broke the radio section up into every variety known to man. In 2005, the panel of critics has spoken on its overall favorite, and WFAE won in a landslide. From its daily lineup of NPR programming and local call-in hour Charlotte Talks to weekend doses of Garrison Keillor and the Car Talk guys, WFAE keeps locals informed and up to date on the latest happenings around the world and in our own backyard. Audible proof that the Senate should keep its mitts off public broadcasting's funding.
click to enlarge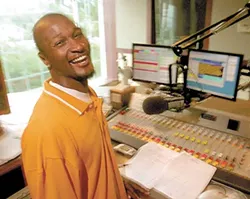 BEST RADIO PERSONALITY
No Limit Larry, WPEG
He's a Charlotte native, so there's that going for him. "No Limit" honed his skills on the radio through an internship at Power 98 while a student at Johnson C. Smith University, then moved on to produce at the station and develop his on-air talent. Now he takes care of the Morning Maddhouse and sports the title "The Carolinas' 'Crunkest' DJ." He and his Maddhouse team don't just spout a.m. jokes; they also get out to reach their audience through efforts like posting weekly job openings and their Stop, Think and Live Tour. Crunk enough for ya?
BEST DRIVE-TIME RADIO SHOW
Charlotte Talks, WFAE
Admittedly, this might qualify as "drive-time" only for those caught in highway traffic coming in from the suburbs from 9-10am. Host Mike Collins brings on guests ranging from local politicians to stars of the latest area performances. Plus, he keeps a finger on the local pulse by hosting an open-phone hour once a month. Hearing what bothers your fellow Charlotteans right this moment is more entertaining than just about any jokey two-guys-and-a-bimbo routine found on other FM channels during the drive to work.
BEST LOCAL TV NEWSCAST
WBTV
WSOC's Bill Walker has left the building, and perhaps Paul Cameron is poised to step into the position of Charlotte's senior male patriarchal anchor figure. He and the rest of the team at WBTV do a great job throughout the day of delivering all the news that's fit to speak. Mornings kick off with our favorite anchor (see next category).
click to enlarge
BEST LOCAL TV ANCHOR
Lenise Ligon, WBTV
A pretty face, nice wardrobe and soothing voice -- what better to see and hear when starting your day with a heavy dose of everything bad that's happened since you went to bed last night? Ligon makes the morning news tolerable -- even enjoyable -- with a calming demeanor and beautiful eyes.
BEST LOCAL TV METEOROLOGIST
Larry Sprinkle, WCNC
Who says meteorologists in South Florida have all the fun? Sprinkle saw us through last summer's drenching hurricane season up here, and he's ready to serve us again now. This salt-and-pepper-haired morning fave easily bested the competition, winning the honor of Charlotte's Best Meteorologist from the critics after garnering the Readers' pick last year (not to mention the now-defunct award for Best Celebrity Hairdo, sure to stay put in the wildest storm).
BEST LOCAL TV SPORTS ANCHOR
Delano Little, WBTV
Come on, who can beat that name? He backs it up, too, filling Charlotte in on how its many local teams -- high school to NFL and everything else -- have been doing. He's claiming victory again after winning in 2003, sliding past last year's winner, Chuck Howard.
BEST TV REPORTER
Stuart Watson, WCNC
Watson does what very few television news stations do anymore -- investigative reporting -- and he does it exceptionally well. Watson is a three-time Peabody Award winner and a triple Emmy winner.
click to enlarge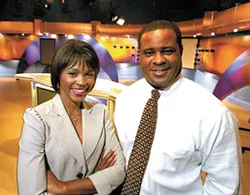 BEST LOCAL NEWSPAPER REPORTER
Scott Dodd, The Charlotte Observer
From serial bomber Eric Rudolph to NASCAR to how to sex a Tyrannosaurus Rex, it appears that when The Charlotte Observer wants to make a good story a great one, it sends out Scott Dodd. Dodd can take a real snoozer of a topic and make it interesting. And if he's on the story, no conceivable angle is left uncovered -- just check out his NASCAR coverage.
BEST LOCAL COLUMNIST
Tara Servatius, Creative Loafing
You risk seeming self-serving when you give one of your own writers an award, but sorry, this one was simply no contest. Love her or hate her (or, like many readers, both), you always know where Tara Servatius stands on whatever topic she writes a column about. She's a breath of fresh air for readers seeking a clear voice, backed up by solid reporting. But don't just take our word for it. Tara won first place from the North Carolina Press Association for editorial writing, and followed that up with a first place Green Eyeshade Award for editorial writing, a regional prize given by the Society of Professional Journalists. She's also this year's national first place winner in the Education category from the Association of Alternative Newsweeklies.
LOCAL COLUMNIST YOU'RE SICK OF
Ken Garfield, The Charlotte Observer
The daily paper's religion writer works a beat that is so important to so many people here, it practically screams for in-depth looks at a variety of issues: the changing cultural landscape of worship emanating from Hispanic and Asian immigrants, churches' influence on local politics, Protestant dominion theology's threat to democracy, and a hundred others. Instead, Garfield's earnest yet pious commentaries too often are short on challenge and long on skimming the surface for ways not to offend. Other than Garfield's resolve to be your one-stop source for everything Billy Graham, we can't figure out why he's still at it.
LOCAL ISSUE THAT NEEDS MORE ATTENTION
Terror-Related Security Concerns At McGuire And Catawba Nuclear Plants
LOCAL ISSUE YOU'RE SICK OF
Proposed NASCAR Museum