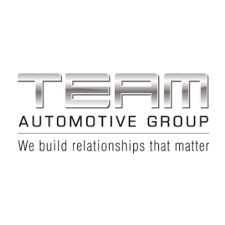 Team Auto Group relocates HQ from Salisbury bringing over 100 jobs to the Charlotte job market with plans for continued growth
CHARLOTTE, N.C. [insert date] – Team Automotive Group, a North Carolina leader in automotive sales and repairs, today announces the relocation of its company headquarters to Charlotte, North Carolina, as the company continues robust expansion on the heels of two recent dealer acquisitions. The auto dealership has selected Floyd Smith Office Park as its new corporate home, becoming the majority tenant.
"Team Auto Group is excited to call Charlotte its home and we have big plans to continue to grow into the Charlotte Metro market. As we expand, it's important to us that in all we do – we build relationships that matter. This begins with supporting our team and providing the best professional environment for our employees, so that they can deliver the best experience for our customers," said President of Team Auto Group Kristin Dillard. "Our new headquarters in Charlotte will consolidate our call center, accounting, marketing and leadership teams under one roof, delivering cohesion in our vision to win as a team."
Since becoming President of Team Auto Group in 2017, Kristin has transformed the dealership from a single location with 60 employees to six locations with 370 employees - and growing. Just recently, they acquired three more locations in Boone, Creedmoor and Morganton, North Carolina. Team Auto Group was named one of the fastest growing companies by Inc. magazine, ranking no. 1763 on the prestigious Inc 5000 list. Kristin was also recently nominated for Charlotte Business Journal's CEO of the Year award in 2022, recognizing her work to transform the company culture that always prioritizes taking care of people first.
Upon relocating to Floyd Smith Business Park and continuing along its growth journey, Team Auto Group is expected to scale to 10 locations with over 650 employees company-wide. The relocation of its headquarters alone will move about 100 corporate jobs to Charlotte in various fields including accounting, communications, marketing, and B2B sales, leveraging the rich talentpool the region provides.
About Team Automotive Group
Team Automotive Group, headquartered in Charlotte, North Carolina, is a woman-owned automotive dealership with six locations and a leader in N.C. automotive sales.  The auto group sells and services Chevrolet, Buick, GMC, Chrysler, Dodge, Jeep Ram automobiles. Their people centric business model keeps the focus on the needs of their clients and employees alike. Team Automotive Group is ranked among Inc. 5000's fastest growing companies. For additional information, visit the company's website at www.teamautogroup.com. 
Media Contact
Anna Stallmann
media@annacomms.com
(708) 476.1258