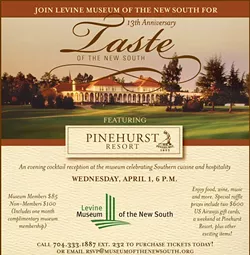 Celebrate southern food, hospitality and entertaining at the annual fundraiser Taste of the New South at the Levine Museum of the New South.
Pinehurst Resort will headline this year's evening cocktail reception, which will be held Wednesday, April 1. Executive Chef Thierry Debailleul will treat guests to an array of themed food stations (and by looking at the menu-in-progress, this event is not to be missed!). There are 11 food stations planned, with an extra four just for dessert. Check out the tentative menu below. (Eyes growing wide yet??!)
Tickets to this culinary feast are $85 for Museum members, and $100 for non-members (includes a 1-month membership). To rsvp and purchase tickets to the event, call 704-333-1887 ext. 232 or email rsvp@museumofthenewsouth.org.
Tentative Menu
Taste of the New South 2009 featuring Pinehurst Resort
Hot
Mango, Sweet Potato and Duck Turnovers
Curry Prawn and Collard Greens Springroll with Citrus Sweet and Sour Sauce Moroccan Lamb Lollipops with Scallion Aioli
Cold
Brioche of Humboldt Fog Goat Cheese and Fig Compote Corn bread Croustade of Smoked Pheasant with Huckle Berry Cream
The Heirloom Farm
Heirloom Beets and Tomatoes samplers.
Assembled to order
Gold Beets with White Asparagus and Green Tomato Salsa Cherokee Red Tomatoes with Blue Cheese and Walnut and Micro basil
Soup Station
Crawfish Bisque with Sea Foam
Sweet potato Duck Soup
Cooked to Order Montecristo of Capicollo and Goat Cheese on Brioche
Spa Station
Coconut Bamboo Rice Pudding with Litchee Foam
Drink: Carrot and Passion Fruit Nectar
North Carolina Cheese Makers Display
Hoop Cheese, "Goat Lady" Chèvre, Camembert, Bleu Cheese and Hickory Grove Fig Compote, Branston Pickle Dry Fruits, Nuts and Oils Artisan Breads Display, Lavash and Crackers
Seafood Station
Seafood Martinis
Ceviche Shooters with Crispy Tortilla Soup Carolina Oysters on the half Shell, Yamasa Soy and Cucumber Chow-Chow
Corn Action Station
Sweet Corns Sautéed to order 3 ways served with Stone Ground Grits Foie gras and pea tendrils, Balsamic syrup Day Boat Scallop with Lobster Essence with Wasabi Peanut Dust Smoked Tomato, Broccoli and Gruyere
Pork Station
Farm Raised BBQ Pulled Pork with Warm Brie Cheese, Wonton Cracker Raz Cherry Gastrique Micro Celery Greens
Beef Station
Mini Kobe Beef Burger on Pretzel Bun
House Composed Relish and Chopped Lettuce
Dessert Station
1. Wedding Cakes - Eclectic, contemporary, Classic, Bold, Groom's cake type
2. Chocolate Lab Station
Dry ice Chilled Granit Slab
Chocolate Fountain and Assorted Fruits and bites cakes and Confections dipped to order and Placed on the Chilled Slab
3. Small bites of Great Southern Desserts
Tarheel Pie
Bourbon Pecan Pie
Sweet Potato Pie
Pumpkin Cheesecake
Freestone Peach Cobbler with Vanilla Ice Cream Mini trifles and Shot Glasses of various compositions
4. Flambé Station
Almond Financier with Flambé Strawberries, Strawberry-Balsamic Sorbet and Balsamic Syrup