A priest, a prostitute, and a leprechaun walk into a bar. No, this isn't the beginning of a lame joke. It's Halloween! Pimps, whores, and white trash are welcome. Whether you're going dancing or laying low this Halloween, why not crank up the costume volume?
Sure, maybe it's a little early to be thinking about Halloween costumes ... heck, it isn't even October yet. But true costume connoisseurs know that to really set yourself apart from the pack, planning has to begin hella early.
The majority of Halloween costumes fall into three categories. Flash back to last year: were you scary, sexy, or silly? According to the National Retailer Federation, 2008's top 10 adult Halloween costumes were angel, ghost, political figures, Batman, nurse, fairy, cat, vampire, pirate, and witch. Yawn. Cut the crap — since when did Halloween have to be safe and child-friendly?
Let's think outside the box and embrace original costuming ideas. Whether you're looking to be bloody, slutty, or somewhere in between, try spicing up your look. To stand out in a crowd this year, avoid obvious popular figures. "We'll see a lot of Michael Jackson and Farrah Fawcett," says Malina Boone of Magic Maze, a costume rental shop in Dilworth. If you're wearing a traditional costume, try a new spin to make the look your own. Give Halloween the respect and creativity that it deserves, and don't forget your hooker shoes.
Creative Halloween costumes are not just for kids. East Charlotte's Davey Roberson is a Halloween costume enthusiast who is embracing his inner royalty this Halloween. Roberson is planning to dress as Alice In Wonderland's Queen of Hearts. "I saw the Helena Bonham Carter promotion for Tim Burton's Alice In Wonderland and it blew me away," says Roberson. "I just love that picture of her— it is fabulous!" Roberson plans to create a handmade costume that pays homage to the character, complete with MAC makeup and a styled wig. "I like being an evil character on Halloween," he says. Roberson plans on wearing a color palette of gold, red, and burgundy with "bright red accents" to Petra's Piano Bar on Halloween. Looking to also make a handmade costume? Roberson's advises to "scour the Web two months in advance. Give yourself time to plan out the costume."
OK, OK. We're not all crafty enough to make a Queen of Hearts costume.  Crafting can be challenging and some of us don't have time and just want to dress up like slutty schoolgirls and go have some drinks. But what about the plaid skirt? That's when costume shops truly come in handy. Local shops such as Halloween Express, Magic Maze, Morris Costumes, and The Red Door are the go-to places for all things Halloween.
For some, Halloween is all about the horror. Scary costumes are Halloween classics, and 2009 has been the year of the vampires. "It only takes one movie" to have a large influence on costuming, says Greg James of Halloween Express. Trying to stand out in a graveyard full of vampires? "Excess is the name of the game," says James. With the rise in popularity of Twilight, "the biggest thing is going to be vampires," says Chrissi Zelez of The Red Door, which offers both spooky and sexy Halloween costumes.
click to enlarge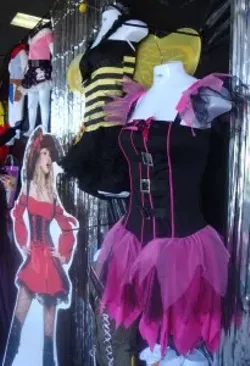 Less is more, and sexiness is always accepted on Halloween. "Sexy costumes beat anything," says James. If you're looking for a basic sexy costume, Shacana Kimble of Morris Costumes recommends "sailors and superheroes." And don't forget about sexy costumes for men. Kimble recommends a Roman soldier outfit, mirroring the movie
300
, and be sure to include accessories to match. To fully accessorize your Halloween costume, Zelez recommends buying a costume accessory kit containing "all the accessories without the costume."
For some, Halloween is all about the laughs. Looking for a unique, giggle-getting silly costume? Let's not forget about the recent death of infomercial star, Billy Mays. Utilize your plaid shirt, a bottle of OxiClean, and an annoyingly convincing smile. "I'd be surprised to see a lot of that," says James. The key to a humorous costume is making sure it is well thought-out. "People love word play," says James, whose store sells such comedic costumes as "white trash," "chick magnet," and a couples' "ball and chain" ensemble.
Are you feeling crafty and more interested in a do-it-yourself look? Boone recommends to "start with a good base" for a costume, using the example of a long brown T-shirt for an American Indian outfit. Trying to tap into your musical side? Wear a platinum blonde wig, sunglasses, a leotard, and heels and you're recent music phenomenon Lady Gaga. Creativity is key: solid-colored clothing and face paint can go a long way. Wear all black (including gloves), paint your face black, grab some white headphones, and simply dress an iTunes gift card for Halloween. Remove the headphones and add nine numbers to your chest and then you can dress as a sudoku game. When it comes to do-it-yourself costumes, kitchen supplies and duct tape are your friends. For a last-minute costume, grab six plastic cups, arrange them in a triangle, tape them to your shirt, and dress as beer pong — the fraternity guys will love it, and you'll catch spills at the bar.
Whether you're the Queen of Hearts, Queen of the Damned, King of Pop, or king of infomercials, get involved and truly embody your character of choice. Halloween only happens one night of the year, so have a blast and embrace originality. Get to know your inner spooky drag queen. When in doubt, add some glitter.
Magic Maze
325 East Blvd.
Morris Costumes
4300 Monroe Rd.
Morris Costumes-Halloween Express
Carmel Commons
7643 Pineville Matthews Rd.
Mooresville
221-A Norman Station Blvd.
University
230 W.T. Harris Blvd.
The Red Door
Independence
5301 E. Independence Blvd.
Woodlawn
200 W. Woodlawn Rd. Suite I