click to enlarge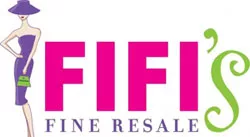 As we have been teased with the warmer weather of spring, our temptation to shop is high, but what is a girl to do when gas prices are on the rise? Shop consignment, of course. There is no better way to get labels in your closet without your wallet feeling any pain.
Fifi's, located in the Lake Norman area, is your perfect fine resale shop stop. Most people have preconceived ideas of consignment shops — well, let Fifi's change your mind. Worried about not finding your size? Don't be! Fifi's carries a variety of sizes from PP up to 3x in clothes and shoe sizes from 5 to 13! If you are on the curve-a-licous side, then you are in luck: a curvy girl boutique has been launched specializing in trendy styles from sizes 14 to 24. They carry something for girls of every size.
The next false preconceived idea of consignment shops is that the labels carried are generic. Once again, Fifi's will blow that notion out of the water. They carry a range of pieces from mall department stores such as Ann Taylor, Banana Republic, Talbots and Chicos and some faves such as Coach, Louis Vuitton, Prada, Talbots, Tori Burch and Nanette Lepore ... as well as many many more! And if you are looking for a particular piece or look, Fifi's sales associates have an excellent knowledge of the inventory. I know this by experience: I was looking to recreate a look and I was overwhelmed by all the pieces the sales associate brought to my dressing room. (Such as these BCBG shoes!)
Also, if you are doing a little spring cleaning, you can always bring your gently worn items by Fifi's Monday through Friday from 10 a.m. to 5 p.m. When you consign an item, you collect money as your pieces sell, then you can just turn around and spend that money to replenish your closet.
Why don't you come check out Fifi's this Thursday night, March 31 from 6:30 p.m. to 9 p.m., for their monthly Diva Night, which is a bargain hunters dream. Items are up to 75 percent off and there will also be a special diva guest, a photographer who will be offering complementary head shots. There will also be tasty treats and wine to make the perfect sip and shopping experience. Diva Night is the last Thursday of every month.