Who knew a glimpse of Paris was nestled in the Metropolitan shopping area? Well, customers will get a taste of French couture at the new Lipp Boutique. Owner Shital Vaghasiya finally opened her dream store, and she is eager to share her excitement.
Opening a boutique wasn't at the top of the Chicago native's to-do list, but after franchising for Jimmy John's for more than 10 years, it was time to try something new. After moving to the Queen City three years ago to be with her husband, Vaghasiya decided to try her hand at fashion. The entrepreneur believes that working in fashion is not that different from working in food. "I'm selling different products, but I'm selling what I love," she says.
The owner wanted a boutique with a four-letter name and a retro design. "My designer friend recommended naming the store Lipp after a brasserie in Paris. So, I came up with Lipp: living in perfect pleasure," she says.
The 1,396-square-foot space was chosen because of its growing popularity. "The Metropolitan is becoming the new Uptown," she says.
When customers walk into the store, they will immediately notice the dainty chandeliers sparkling like tiny diamonds. At the back of the store is an apple red Salvador Dali couch. The boyfriends and husbands can relax on the velvety plush couch, browse through a selection of men's magazines, and sip on a bottle of Voss water while the women shop.
Black and white walls are offset by a giant cherry-red Lipp Boutique logo at the front counter. The classy color scheme is a great contrast to the gumball pinks, watermelon greens, and banana yellows on the clothing racks.
At first, one feels like they are browsing through collections featured in Seventeen magazine. Vibrant colors and funky patterns seem to take on a life of their own. Most of the dresses are youthful and chic. But classy black dresses and floral prints are reminiscent of something a stepford wife would wear. According to Vaghasiya, the variety targets young ladies in high school to women in their 50s, with an outfit for every occasion.
Best of all, most of the dresses are priced from $88 to $130. So, customers can walk out of the store with a good quality outfit without dropping lots of dough. The owner says she priced all of the merchandise according to what she would spend on it.
Vaghasiya also sells the Va Cosmetics makeup line; complete with a signature lipstick, also called Lipp. The paraben-free mineral makeup was created by Vaghasiya's friend who worked in skincare for 15 years. The name Va means "wow" in India, and after trying out some of the gorgeous eyeshadows and lipsticks, I know why. The eye shadows glided on like silk and didn't even crease after I completed a 30-minute workout that afternoon.
Opposite the makeup is a table of T-shirts that feel like baby blankets. No wonder they are so soft; according to the manufacturer's website, they are made from organic fabrics. The owner says Lipp is the only boutique in Charlotte that carries the organic T-shirt line, Groceries. Groceries is an L.A. based company that makes certified organic T-shirts from California and North Carolina-grown cotton, and unprocessed non-toxic hemp.
As customers head for the door, a small shelf of stunning scarves stops them dead in thier tracks. Swirled patterns are colored like skittles; as bright and glossy as the rainbow. Vaghasiya proudly tells customers that these scarves are Tolani scarves. Celebs like Jessica Alba, Sarah Jessica Parker, and Halle Berry are pictured wearing Tolani scarves around L.A. A $99 scarf is worth every penney, especially when it's approved by Jessica Alba and Halle Berry.
Lipp carries pieces that correspond with the latest fashion trends. Customers will find affordable name brands that they can dress up or down, and wear over and over again.
Lipp Boutique is open Monday through Saturday from 10 a.m. to 8 p.m., and Sunday from 1 p.m. to 6 p.m.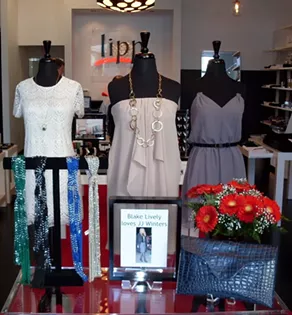 9 slides