click to enlarge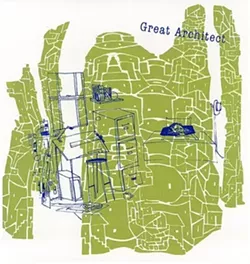 It's a common complaint that there's no good jazz in Charlotte. That's certainly true in the city's main venues, but there's a little-publicized underground scene that has featured remarkable shows by everyone from excellent local ensembles to MacArthur "Genius" Award grant winner saxophonist
Ken Vandermark
.
The shows are booked in various low-key locations by local saxophonist Brent Bagwell. His latest coup is landing the acclaimed Chicago jazz sextet Fast Citizens. The band plays everything from hard swing and lush ballads to high-energy free improvisation and Sun-Ra inspired grooves. For anyone with an interest in high-quality jazz, this show is a must-see.
Fast Citizens plays this Wednesday the new TwentyTwelveTwelve show performance space in Plaza Midwood. The band is promoting Two Cities, their latest album on Delmark. It's been hailed by critics as "a meeting of highly skilled and individualistic players who channel their hard work into a cogent and coherent whole." All About Jazz said "they continue to forge its own direction, reaching beyond formulaic conventions to embrace new forms".
The show will also feature Great Architect, an exciting local band that aggressively mixes jazz improv, rock, and electronics, featuring Bagwell and cellist Ben Kennedy. Their outstanding debut album on Kinnikinnik is now available exclusively at Lunchbox Records.
Show details: Fast Citizens — Great Architect — CJ Boyd; Wednesday, Dec. 16 at 9 p.m. @ TwentyTwelveTwelve show space (1212 10th St. Charlotte 28204). Free admission, but donations are requested for the bands.