Just because you prefer home cooked meals doesn't mean you have to slave away every day on gourmet dinners. Though many of us would prefer it, most just don't have that kind of time. Home cooking still has to be simple, quick and hopefully yummy. But sometimes it all seems to get old: steak and potatoes with a salad, chicken and asparagus, pork and green beans.
click to enlarge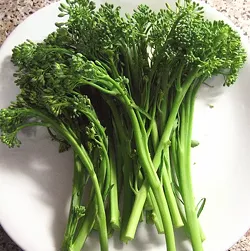 How about something easy to switch up with the broccoli you eat once a week? No one ever seems to think of broccolini. It's right there next to cauliflower and brussel sprouts — two other veggies no one ever seems to attempt to add to their meal plan. If you're sick of all the usual suspects, broccolini is the perfect substitute.
A hybrid of the cabbage family, broccolini is a cross between broccoli and kai-lan (Chinese broccoli) and has much more character and a sweeter flavor than the traditional alternative. If preferred, the "baby broccoli," as it is also known, can be eaten raw, but the most common cooking methods are sauteeing, steaming, roasting or stir frying — but keep it short and sweet; you dont want to over cook it. The result will be a tender, sweet taste with a "broccoli like bite."
The next time you're grocery shopping and thinking how sick you are of eating asparagus and carrots, pick up a bundle of the little veggie that could. It's packed with nutrients and is just as basic to prepare as the conventional stuff.
Sources: CNN.com, Wikipedia.com, wisegeek.com