By Barack Obama
click to enlarge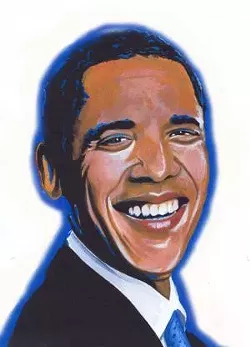 After eight years of a Down Syndrome Republican in the White House, the economy is in the shitter and there's a haphazardly executed war to clean up. This election should be a slam dunk for the Democratic Party, right? That is, if it doesn't implode on itself. Well, it might be too fucking late. Thanks Geraldine Ferraro! For the first time in the history of forever, someone has claimed (with a straight face) that
my being black confers a professional advantage
:
Ferraro told a California newspaper that "if Obama was a white man, he would not be in this position…And if he was a woman he would not be in this position. He happens to be very lucky to be who he is. And the country is caught up in the concept …"
And for the first time in the history of forever, someone backed up those claims just a day or two later:
"It wasn't a racist comment, it was a statement of fact," Ferraro said… "Any time anybody does anything that in any way pulls this campaign down and says let's address reality and the problems we're facing in this world, you're accused of being racist, so you have to shut up…Racism works in two different directions. I really think they're attacking me because I'm white. How's that?"
Yes, Geraldine. They are attacking you because you're white. And stupid. And old. And, quite frankly, because you look like an extra from The Golden Girls.
Listen, I do many things that are considered the stereotypical province of black men: I play basketball, I smoke(d) Marlborough Reds, and I love me some chitlins. As much as I wish "political prowess" was a quality attributed to my race, unfortunately it's not. Geraldine, next time you open your mouth do us all a favor and just say, "I don't like him, but that n***** can campaign!"
News Groper features more than 50 parody blogs by politicians, celebrities, business tycoons, and foreign despots.