click to enlarge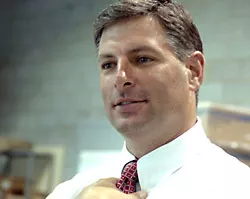 WSOC talked to parents this morning about budget cuts that CMS will vote on today. None of the parents want teachers to be laid off. But none of them offered to pay higher taxes either.
Flipping over to Fox News Rising, it seems that the drought is back. And guess what? There is a chance of snow for next week. That means, buy your bread today. Mark Mathis was supposed to talk about the ecomony, but the reporter from New York could not be found. Thank you for small blessings. But I can't wait for the Friday Dance Party.
Jon Wilson was hanging out with a bunch of Pittsburgh Steelers fans this morning. At least he's still representing for the loser Panthers in his No. 48 jersey. Who is number 48?
So, one little boy is a huge fan, yelling that the Steelers will win. Wilson said, "This kid is obnoxious." Mathis replied, "Well, you should love him then."
Those two are going to fight one day. On air, I hope.
CBS's The Early Show always seems to be a day late and a story short. Today's guest: Ted Haggard. He was all over the morning news yesterday! Let's move on.
The California woman who had eight babies this week already has six kids. She's filed for bankruptcy and lives with her mother. I'm guessing she's not going to get a free trip to Disney World.
The Today show pretty much laughed at former governor Rob Blagojevich. They basically said his closing argument was the same thing he'd said during his media blitz, which started on Today.
One state senator said: "We have this thing called impeachment and it's bleeping great and we used it in the right way." That was pretty funny.
Creepy moment of the morning: Merdith rubbed down Al Roker's head and then said they both felt moist. I threw up in my mouth a little bit.
Good Morning America is sampling a bacon explosion. It was invented in Kansas City and it's just pork on top of pork. There's sausage wrapped in the bacon. People actually eat this heart attack on a plate? There are 5,000 calories and 500 grams of fat in this meat roll. As if the bacon explosion wasn't enough, now they have Paula "I love butter" Deen's kids on the show. Bacon wrapped chicken breast and sausage potato salad.
"Haven't we've been getting people fit for weeks?" Sam Champion asked.
Extreme texting: some kids can text so much that their phone bills are more than 70 pages. 35,000 texts a month? That's just crazy. The average that teens text a month is more than 1,000 texts. One girl sent more than 35,000 text messages per month. They are texting during homework, during TV time, during dinner. It's not as if these kids don't do other stuff. But the parents should be slapped because one kid had a $750 texting bill before they switched to an unlimited plan. They should've taken the phone away.
Text speak is getting into kids school work. Now texting is a second language?
MSNBC is reporting that President Obama wants the Steelers to win the Super Bowl. Wow. And I thought he was cool.
CNN is reporting that Paris and America are fighting over cheese. Come on people, eat a cheeseburger and call it a day.
Zoos are facing major budget cuts; does that mean that PETA was right all this time? What happens if a zoo closes? Where do you send a lion? To the pound? Back to Africa?