click to enlarge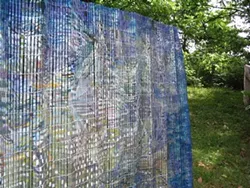 At the funky, mystical McGill Rose Garden, art of every persuasion — adorable, conceptual, soothing, mind-numbing, functional, therapeutic — converges in a big, thorny lovefest. Within the last year, a visitor to the garden could see works ranging from an esoteric installation by McColl Center artist-in-residence Claudia Borgna to whimsical craft items.
You now have until the end of the month to catch Phillip Larrimore's Holographic Fences. Not holographs in the conventional sense (detail of Larrimore's Holographic Fences pictured — photos courtesy of the artist), these paintings on bamboo curtains and lattice are strung along a chain-link fence at the periphery of the garden. (And although I am a big fan of the McGill on a gloomy afternoon, these works are really best viewed on a bright day, when the aluminum paint shimmers in the sunlight, creating the holographic effect of the title.) Depending on your mood or the quality of light, these pieces can be seen as works that honor or prettify or are subsumed by the chain-link and barbed wire surrounded them and the compelling, derelict landscape behind them. Larrimore's first experiments with what he calls non-technological holograms were done on screens. He hopes to continue this project on perforated metal sheeting.
Next up at McGill: In early October, Tom Thoune and Patrick Crawford will be working with developmentally disabled clients of Goodwill Industries on Coal Garden, a set of mosaic urns.
JOIN THE MOB SCENE this Friday, September 25, 6:00-9:00 p.m., at the McColl Center for Visual Art for the opening of Decade and Collected, which feature work by former McColl artists-in-residence and affiliate artists. Also opening that night is an exhibition of work by the newly arrived fall artists-in-residence. These exhibitions inaugurate McColl's 10th anniversary year and embody the past, present and future of this important local institution.