People are buzzing about how Michelle Obama's roots are firmly planted in the South. She's got a white great-great-great grandfather and her African-American ancestors were slaves.
Frankly, this isn't shocking news. This is the American story. Hate to break it to you guys, but we're all mutts.
Do you know what kind of mutt you are?
If you're like a lot of people, you know a little about one branch of your family tree or the other but you're probably not totally sure what kind of mutt you are.
click to enlarge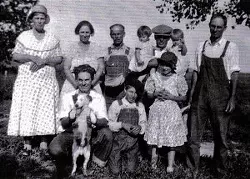 In my family, I know a ton about my maternal grandparents and their roots. For instance, I know my great-great-great uncle was Levi Coffin, a Quaker Abolitionist who helped slaves make their way north on the Underground Railroad. There's also a great-great-something in our family history that, the story goes, left millions in unclaimed money. We know her name: Lady Margaret Scott Hamilton Snow.
My grandfather says, during the Great Depression, he and his brothers dreamt about claiming that money. I bet they did, since during that time in the Sandhills of Nebraska they were living off of what they could hunt and gather or grow.
Speaking of Nebraska, my great-great grandfather Weber's ranch, I found out, was located on the very land Black Elk, a Sioux medicine man, mourns in the book "Black Elk Speaks." Learning that made me want to cry. It's since been sold to who knows who, the money split between the eldest son's children. One of them, of course, blew their wad in Las Vegas.
So, yeah, I can tell you a lot about my mother's family. But, as for my father's family? When I had the chance to ask my paternal grandmother where she was from, she said, "Baldwin County."
I asked, "No, before that."
"Baldwin County," she said. "We've always been in Baldwin County."
While I feel very lucky to know as much as I do about half of my family tree, the other side is almost entirely blank.
So, it's no surprise to me that first lady Michelle Obama is just learning about her family tree's roots. My experience is that most of us don't really know where we're from.
Do you?
Read more about Michelle Obama's family tree in The New York Times.