click to enlarge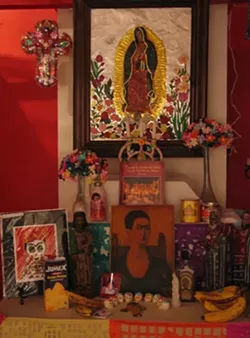 The Day of the Dead (Dia de los Muertos) is coming soon. This is a holiday celebrated primarily in Mexico but also touched on in other countries in Latin America. Although the Day of the Dead falls on November 1st and 2nd, it should not be confused with Halloween — for it has none of the gore or fright accompanied with Halloween.
On the contrary, Day of the Dead is a festive yet contemplative day; a time to remember and honor friends and family members who have died. The belief is that the souls of the dead return to be with their living loved ones. In preparation for the return of the dead, families set up altars to show their respect.
There is really no wrong way to set up an altar, but it should look happy and show your guest that you welcome the visit. A few staples include candles, incense and marigold flowers; more than anything, to create a nice ambience for the dead and also, because of the light and the smell, these items help lead the souls to the altar. A good picture of the dead person is often placed on the altar in addition to water, favorite foods and other things the dead enjoyed in the world of the living. Think of it as preparing a table with a feast for a very special guest — one who visits only once a year.
For example, an altar created in my honor should have red wine, good strong coffee, chicken with mole, chiles rellenos, frijoles borrachos with Mexican rice, beef fajitas, jalapeños en vinagre, goat cheese with chile poblano, sushi, peaches, cajeta envinada, mangos and jicama with lime juice — all my favorite foods. I would like a nice tablecloth and lots of flowers and candles. If I show up and find nothing but crackers, I'm not going to feel very wanted and may not return the following year.
So once you're finished playing scary on Halloween, take some time to remember and enjoy the company of the dead. They've been waiting to be with you all year long.
(Editor's Note: Be sure to check out Pura Vida's FREE Day of the Dead celebration this Saturday, Oct. 24 in Plaza Midwood.)